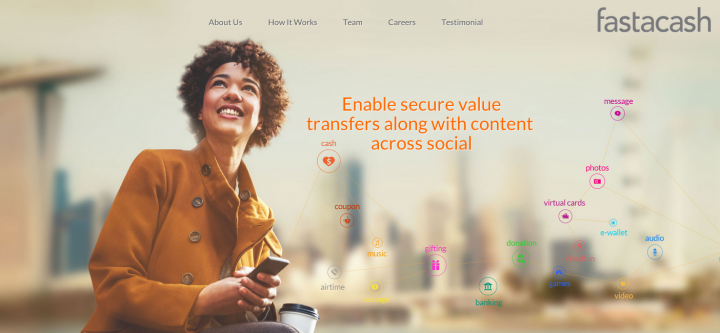 Fastacash, the Singapore-based payments startup, announced today it raised US$3.5 million in funding from Jagdish Chanrai, principal at the Kewalram Chanrai Group and Golden Orile Investments, along with prior investors Jungle Ventures, Spring SEEDS Capital, and Funding the Future. The round will top up the company's funding to US$8 million.
Fastacash lets people send money to friends and family over popular social networks. A user who might want to send US$20 to a relative, for example, might log into Fastacash's mobile app, input the sum of money to send, and then direct the cash to Aunt Susie's Facebook. The next time Aunt Susie checks Facebook Messenger, she'll receive a link that takes her either to her own Fastacash app or a web app, through which she accepts the transfer.
Fastacash provides accounts both to consumers, who might use it to pay for last night's drinks, or companies, who might use it to give coupons to customers. Virtual goods, music, and images can also be transferred through Fastacash.
The company also revealed it formed strategic partners with a number of payment providers around the world, including Skrill, India's Oxigen, Russia's Mobi.Dengi, Kenya's Imperial Bank, and Vietnam's Techom Bank.
The social payments space – and the payments industry in general – remains crowded with young startups, none of whom have emerged as a globally dominant player. Venmo once looked to be at the forefront of a then-nascent wave of mobile payment startups, but it's been relatively quiet following its acquisition by Braintree in 2012. Square also has its own person-to-person payments feature, though that company appears to be facing some growth hurdles. Old standbys like Google and Paypal also have their hats in the ring. Fastacash appears to bet that remaining platform agnostic, useful for brands, and relatively low-fi (you're basically just sending out a link) will help win over users.