Block 71, a government experiment to bring the startup community under one roof, will double its capacity by the end of the year from its current 250 startups and 1,000 people to around 500 companies.
The additional tenants, which will consist of startups and other support services like investments and legal, will be housed in two buildings adjacent to the Block 71 facility. The entire area is named the JTC LaunchPad @ one-north, with JTC being a government agency spearheading the initiative.
Startups will get rentals at either S$20 or S$25 (about US$16 and US$20) per square meter per month. The cheaper rate applies to non-air-con offices, which means some startups will have to brave the sweltering Singapore heat.
The cost is roughly equivalent to similar off-central industrial estates in Singapore, although Launchpad tenants would benefit from shared amenities like free wifi access, recreational facilities, meeting rooms, event spaces, and an expanded variety of food options from the current set. Support services, meanwhile, can rent space at undisclosed premium rates. A linkway will connect all three blocks together.
Depending on the success of the project, the state has earmarked room in the area for at least three more office buildings.
"This is a great milestone for us … it's not about giving just grants; we have plenty of grants and funds already for entrepreneurs. It is about building the environment, building the ecosystem for entrepreneurs to blossom, to succeed," says Minister-of-State Teo Ser Luck, who has been overseeing the government's support initiatives for young enterprises.
From sleepy industrial town to startup campus
Once a dying industrial area housing traditional enterprises, the Ayer Rajar industrial estate where Block 71 is located has gradually transformed into a compound for a new breed of enterprises.
Surrounding it are gleaming monolithic buildings with grandiose names like Fusionopolis, Biopolis, and Mediapolis – statements of the government's ambition to transform Singapore into a modern economy with a foothold in the sciences and media.
These buildings house A*STAR, a government research institute for applied sciences, as well as government agencies like the Infocomm Development Authority (IDA) and the Media Development Authority (MDA).
Filmmaking giant Lucasfilm's regional headquarters is nearby, located within an iconic building resembling a sandcrawler, a slow-moving vehicle in the Star Wars universe.
A short drive away from Block 71 are government educational institutions like the National University of Singapore, business MBA program INSEAD, and the Singapore Polytechnic, which together lend their own research and expertise heft to the area, and are also key suppliers of startup talent.
(See: A tale of two buildings: The rise of Block 71 and the decline of block 67)
Block 71 itself started off as a government experiment, a creation of MDA under then-deputy CEO Michael Yap, who rented five floors of the building and subletted it to startups at affordable rates.
The experiment suffered growing pains recently, however, when it was revealed that the building is at full capacity and some tenants will have to be vacated to make way for newer startups.
Serial entrepreneur Darius Cheung, a Block 71 resident, likened the move to performing heart surgery on the ecosystem while it is still growing up.
No turning back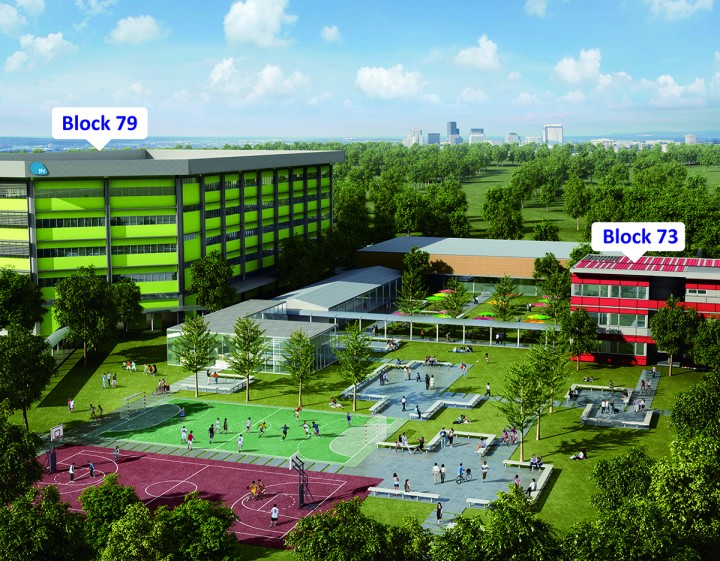 But if the recent pomp of the Launchpad announcement, replete with mockups of the space and a signing ceremony, is any indication, it would seem that the government has found a way forward.
Companies will still have to vacate. The space will only be reserved for startups under five years old at the time of contract signing or renewal.
Startups would be allowed a maximum of three two-year leases, with one unit per company at 100 square meters each, or about a quarter of a basketball court.
Each contract signing or lease renewal would need an endorsement from a participating state body, namely, IDA, MDA, the National Research Foundation, A*STAR, or Spring Singapore.
Other than the age of the company and the fact that they must not be a subsidiary of a parent firm and must have their management team in the country, it's unclear how these agencies will decide which startups can stay on.
According to Teo, the Launchpad has attracted interest from a number of unnamed international players. While the space will be gradually expanded to include overseas entities, its focus for now will be to incorporate local companies who have helped pilot the Block 71 program.
Government's outsized role
Like many aspects of Singaporean culture, the state's hand in the startup ecosystem is strong, akin to a hobbyist molding a gigantic Lego block masterpiece where buildings are changed up and built at will to suit the government's agenda.
Recently, IDA announced the launch of IDA Labs, consisting of two spaces located in central Singapore and the agency's headquarters which will serve as a tinkering lab and learning environment for startups, students, and government officials.
A marked change in the government's role though is its transition from merely a giver of grants into an enabler of support services and facilities.
While ACE, an organization that promotes entrepreneurs and supports new companies, will be privatized entirely, it's likely in the foreseeable future that the state will continue to be heavily involved in the startup ecosystem.
"Compared to Silicon Valley or New York, the Singapore government has played a relatively big role in the past to inculcate entrepreneurship. But moving on, the government will take on slightly less, and will work more with partners to perform a more strategic role," says Teo.
Members of the startup community who are interested to participate in the program can email launchpad[at]jtc.gov.sg.
Corrections: The article previously stated that rental at LaunchPad is subsidized, and that JTC is a state-linked, for-profit entity. Both are incorrect. Rental at LaunchPad is not subsidized, and JTC is a statutory board under the Ministry of Trade and Industry.
(Editing by Josh Horwitz)