A Singapore-based company is taking the concept of a 'moon shot' to a whole new level. Its name, Astroscale, hints at its ambitions: by 2015, the company hopes to send up a rocket with a payload of Pocari Sweat, a Japanese sport beverage, to the moon.
Lunacy? Not quite – the entire space launch is sponsored by Otsuka Pharmaceutical, the company behind the drink, and the money will fund Astroscale's operations. It's also a collaborative endeavor: Astrobotic Technology, an American robotics company spun out of Carnegie Mellon University's Robotics Institute, will run the rover that will deliver the payload onto the lunar surface.
The launch is just a stepping stone towards its grand mission: designing and operating 'sweeper' satellites that will remove space debris – consisting of defunct satellites and pieces of spacecraft – from Earth's orbit. Nobu Okada, the Japanese founder of Astroscale, said his goal is to prevent a catastrophic space collision – depicted in the recent space disaster movie Gravity – that could disrupt the world's communication systems.
Outsiders in the space race
Astroscale is an outsider in a secretive, buttoned-up space industry, is a bureaucratic collective that has just begun to open up to private companies like SpaceX and Virgin Galactic.
Okada was never in the space industry prior to starting this company. After graduating from university with a genetics degree, he held a government job before joining a consulting firm and later an IT company. But despite his ordinary day jobs, he maintained a healthy interest in outer space.
"I was reading science papers while working in government, and I'd been following what's been happening in the space industry. I have a good network there," he says.
Making the giant leap towards starting a spacefaring organization, however, requires more than an avid interest – it takes some guts, and a lot of self-convincing.
Okada was reminded of his ambitions by a autographed letter he received from Mohri Mamoru, the first Japanese astronaut, while on a visit to NASA when he was 15.
He also looks up to SpaceX founder Elon Musk, another outsider in the industry, for inspiration. In fact, an encounter with a SpaceX employee at the Global Space Technology Convention in Singapore cemented his decision.
"He told me that people who come from the outside should be the ones to start a space company," said Okada.
So, with his concerns about space debris nagging at him, he decided to start his own business last year, pumping in S$280,000 (US$221,000) of his own capital.
Catastrophic collision imminent
While there's enough junk on land to give environmentalists headaches, space litter should not be taken lightly.
A research paper by the Inter-Agency Space Debris Coordination Committee has found that if the space debris situation does not improve, a catastrophic collision which results in the destruction of a satellite or space vehicle could occur once every five to nine years.
While many space particles are too small to do damage, at least 21,000 of them are more than 10cm in diameter, and another half a million are between one and ten centimeters.
These objects can puncture metal, because they're traveling at speeds of 7 to 8 km/s (literally faster than a speeding bullet). They are located at an altitude of between 700km and 1,000 km, which is within the Low Earth Orbit where most artificial satellites are placed.
A destructive event has already occurred. In 2009, a satellite owned by an American company collided with a Russian probe at 42,000 km/h, resulting in the obliteration of both satellites and adding another 2,000 pieces of debris into orbit.
Many solutions to clear killer litter have been proposed by both private companies and government agencies. Astrium UK is researching on satellites that could fire a harpoon at space junk and drag it down to the atmosphere. NASA scientists have proposed using lasers to shoot down debris, although its military applications might make it a non-starter.
As for Astroscale, they're working on a proprietary 'mothership' satellite that, once in space, could launch 'satlets' which could grab hold of debris and pull it into the atmosphere, where both will ultimately disintegrate.
The company is also working on a way to track the debris, which is unnoticeable from a distance with the naked eye, using a combination of hardware: a GPS, a star tracker, and an optical camera.
The next challenge is figuring out how to hold onto the debris, which would be rotating and moving at high speeds. While harpoons, grapplers, and nets have been suggested as possible mechanisms, Okada said that they won't work because it's hard to predict the axis of rotation.
Also, trapping the junk mechanically may also cause the chaser satellite to rotate. While that can be mitigated by using a larger satellite, that would add to costs, making it unfeasible.
"Our method does not involve stopping its rotation. Yet we would still be able to trap the debris," he said, without disclosing the actual method.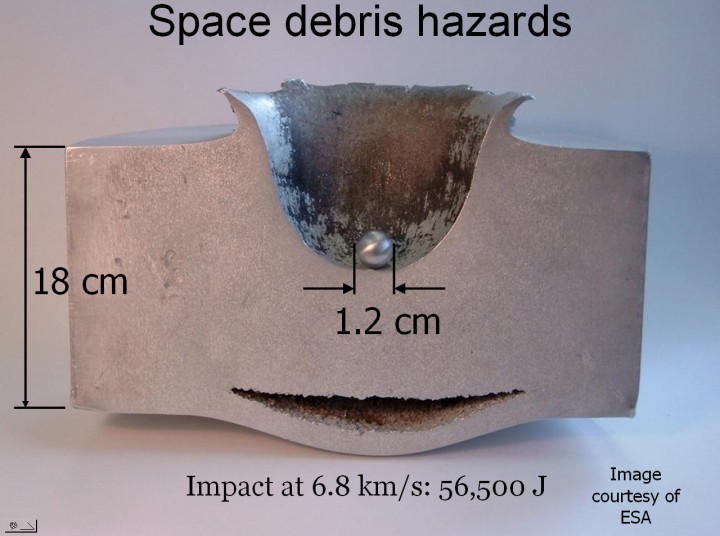 Singapore's secret space advantage
Singapore is an odd place to start a space company. It's not a leader in robotics – a crucial element in unmanned space flight. Nor is it a traditional powerhouse in the space race like the US or Russia. In fact, Singapore's very own space program is still on the launch pad: the government had just announced the opening of a space industry agency in February 2013. Like Astroscale, Singapore is an upstart that is trying to inch its way in between the shoulders of the big boys.
But being in Singapore does confer some advantages. For one, the country is not caught up in any of the Cold War hangups affecting US and Russia, when the space program was, and still is, closely tied to the military and government.
"Imagine if a US company announces a program to sweep debris from space. China and Russia would think the US wants to remove their satellites," he says.
Singapore, however, would not dare pull such a move, since it is after all a tiny red dot with little military might. This necessitates the need to maintain a friendly diplomatic status with all world powers, making it easier for Astroscale to collaborate with companies around the world.
Aside from hiring its own engineers, the startup has partnered with various technology providers from Japan, United States, and other places to work on various components of their sweeper satellite.
It's also easier to hire engineers for a space company in Singapore. Given the amount of state secrets percolating in the industry, countries like US and China have strict restrictions on who can be employed by a space agency or a private sector player – and that often means citizens-only. Singapore, on the other hand, has a reputation for welcoming foreigners into its workforces.
The island-state is also somewhat of a green field – whereas Japan's space industry is dominated by tight-knit consortiums which are unfriendly towards new entrants, Singapore's space program has just taken root.
Space dreams
Astroscale's mission is as much about incinerating prevalent mindsets as it is about burning up space litter.
For decades, space travel has been the domain of governments, but Okada wants to show that the private sector can innovate on the space industry, and that Asians can take the lead in the next phase of space travel.
While its Pocari Sweat mission may sound gimmicky and corporatized, it's actually part of an effort to inspire and educate the public about the space industry. The company will reveal more details later this year.
But suffice to say, these initiatives are meant for the company to generate intermediate revenue while they inch their way towards their first tests in April and eventually a full prototype.
Astroscale is also looking to collaborate with universities in Singapore on parts of its project, and it wants to hire local engineers to join its endeavor.
But for the space industry in Singapore and Asia to grow, the talent pool has to be nurtured.
"The proportion of people in the space industry in Singapore and Asia is very small. That needs to change. We can start by telling kids that they can one day become astronauts."
(Editing by Josh Horwitz)