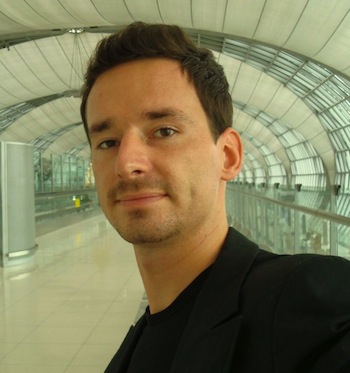 Patrick Linden is the co-founder of Dealguru Holdings, whose services include a daily deals site Deal.com.sg, an online food delivery service Room Service Dealivery as well as a recently launched curated marketplace for fashion, beauty products and electronics that operates mainly in Singapore and Malaysia. Patrick grew up in Germany and came over to Singapore six years ago. Patrick is very knowledgeable in the e-commerce industry and knows Southeast Asia well. While sharing his startup journey with us, he also gave us his perspective about the industry and urged entrepreneurs to stay firm in what they believe in and not be easily swayed by antagonists. So what has he been through on his voyage?
During his stay in Singapore in 2007, Patrick co-founded iHIPO, a startup that functions like a Linkedin for students and undergraduates who are looking for overseas internship and graduate opportunities. He grew the platform for two and a half years to 50,000 monthly active members before selling it off to Potentialpark AB in early 2010 – and it is still active today.
Right after the exit from his first startup, Patrick and his co-founder, Jan Croeni, noticed a trend that's blazing in the US and Europe. He explains:
We had the intention to take a sabbatical for a while but we saw that group buying was developing into a megatrend in the States and Europe. It was one of those intuitive feelings that this concept would definitely work in Asia. Even though market research data basically stated that consumer ecommerce, apart from ticketing and hotels, was virtually non existent at the time in most of the SEA countries we decided to go ahead.
We were absolutely convinced that the combination of attractive deals, high discounts, time sensitivity would present a very exciting online shopping experience for Singaporeans. When you go to a website, sometimes, you don't really know what to get, then you see something cool, you buy it.
Building Deal.com.sg, quickly
With the strong gut feel of the opportunities present, Patrick and Jan put together a few developers and set up the website in the span of four weeks.
I think the importance for us was that we were the first (deal site in Singapore) in the market to go live. In the first two weeks, Jan and I went on a crazy schedule. In the morning, we went to businesses to prospect for fresh deals, and in the afternoon till late night we are back to work alongside the developers and also helped with customer service. There wasn't much time for sleep during that period.
Deal.com.sg went live in May 2010 and what happened in the next half a year was crazy and something every entrepreneur desires. Firstly, investors flocked to them. Among all those, the team decided to go with Rebates Networks, a Germany-based A-list VC whose specialty is in e-commerce, to be their seed investors. When the investment was wrapped up, the site was barely two months old and it was operating with just three full timers: the two co-founders and one developer.
Next, the online deals buying craze enveloped Singapore. This caused exponential growth at Dealguru. Traffic and revenue were doubling month on month. In its first month, it attracted just 20,000 unique visitors and $7,000 in revenue. By end of its first year, its monthly unique visits exceeded a million and it was generating more than two million dollars in monthly revenue.
When acquirers come calling…
The third crazy thing came at the end of 2010. Just half a year after starting up, Dealguru was facing the prospect of an exit when leading international acquirers expanded into this region and spoke to the top three players. Patrick indicated that it was a testing moment for the team as there was this fear of missing out on this exit which would mean them fighting against resource-rich global companies rather than the local competitors. However, after discussion with investors and other founding members, the team felt that there so much more to accomplish before gunning for a quick and relatively unattractive exit. Eventually exits did happen with some of the other leading deal sites such as Groupon acquired Beeconomic as well as Bigdeal to NTUC.
Another defining moment for Patrick and the team was to gear the company to achieve sustainable growth rather than investment-fueled growth. At that point, Dealguru had raised just around $3 million dollars funding, had a team of 126 employees' wages to support and – as is the nature of a deals site – saw cash-flow fluctuating wildly; so any wrong move in pivoting could cause negative cash-flow and the company could be in trouble. Fortunately, everything went well and Dealguru is now a profitable company with revenues of $50 million last financial year and now employs over 250 staff.
This startup's climb to the top wouldn't have happened had Patrick listened to erroneous advice during his founding days. He spoke to many people to get advice before starting up, from entrepreneurs to corporate climbers and established local VCs. Looking back, he felt that the best advice and understanding of opportunities came from experienced entrepreneurs; others were often less positive and more skeptical. Here's his advice for young entrepreneurs:
It is important for entrepreneurs to stay firm to what they believe in. And if you need advice, go to the right people who have been there and done that rather than those who don't fully grasp the reality of entrepreneurship.