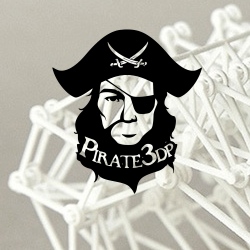 3D printing promises a world of amazing possibilities, bringing small-scale manufacturing onto your desktop. But hardware costs are holding back its adoption. Singapore-based startup Pirate3D is aiming to combat that, and is "developing the most affordable and user-friendly 3D printer for the mass-consumer market." Today, Pirate3D announced that it has attracted S$589,000 (US$482,000) in seed investment from Red Dot Ventures, which is one of the Singapore government-supported incubators.
Pirate3D hasn't even launched yet, and the countdown on its homepage indicates that the startup is 72 days away from revealing its own 3D printer, dubbed the Buccaneer, which is currently in the prototyping phase. The startup says that its creation will "provide consumers with an affordable and easy-to-use 3D printing solution, but it will also become the playground for artists to create, monetize and share ideas with others."
(See: This Chinese Startup Wants to Bring You a 3D-Printed, Smartphone-Controlled Drone [VIDEO])
The Pirate3D founders are childhood buddies Roger Chang, Brendan Goh, and Tsang You Jun (pictured), along with experienced entrepreneur Neo Kok Beng of the National University of Singapore. In today's announcement, Brendan explains that the product grew from their frustration with existing, costly 3D printers:
After six months of losing hair over jammed printers, and nine failed prints out of 10 arising from 674 different problems, we decided that we could probably do better than all of this. Hence Pirate3D was born and so was our dream.
Red Dot Ventures' managing director Leslie Goh reckons that "3D printing is going to make a dent in the universe" and he wants to be part of a local startup contributing to that huge disruption. We'll be sure to keep an eye out for the device's launch in April.
Back in December we saw Red Dot put a similar sum into Singapore's The Stakeholder Company which makes some pretty neat influence-mapping solutions.