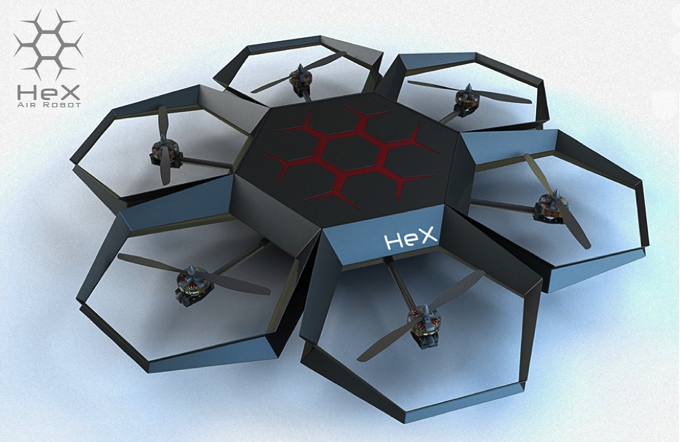 We don't find hardware startups in China as often as we'd like – but we've stumbled across what looks like the coolest we've ever seen. The team of tinkerers and 'makers' behind AngelEyes is prepping crowdfunding for its upcoming HeX Air Robot, a smartphone-controlled drone that looks like some sinister stealth helicopter (pictured above).
Team member George Liu tells us that the HeX Air Robot (see it in flight in the video below) will soon drone its way onto Kickstarter to raise funds to evolve and then manufacture the flying machine. Until that launches, the globally-minded Chinese startup has a couple of software platforms to sell, as well as a huge fascination with 3D printing to keep everyone occupied. To find out more, we fired him a few questions:
How did AngelEyes come to life, and how many products do you have right now?
George: AngelEyes came to life from the vision to propel the democratization of technological innovation. Before AngelEyes existed, we did some projects purely on software and they failed eventually. But now the tide is turning, and it is becoming easier and affordable for individuals to manufacture things on their desktops, which means hardware can be as easily iterated as software, and the cost of going through several lifecycles of hardware manufacturing decreases dramatically.
Plus, crowdfunding platforms like Kickstarter unfolded a new way to finance tech startups. That's pretty much the context how we plunge into projects that can integrate software and hardware. So far, besides HeX, we've got two other cloud services: 'AR Generating' and 'Pattern Recognition'.
When will your HeX Air Robot be for sale, and how could it be used?
George: Actually there are several stages in the development of HeX. The first stage, which we are on now, [means we've] finished the first prototype of it and we're improving it. We plan to sell it on Kickstarter.com, which we estimate might happen at the end of January, to raise funds for the next stages of evolution. With the money we could raise, we're going to add some sensors and an airborne computer on HeX to make it able to avoid obstacles automatically. Ultimately, we plan to mount a camera on it (pictured below) and make it able to track a moving target and film it so that extreme-sports fans can use it as an aerial filming kit.
You seem to be interested in 3D printing. Is that just an experiment right now, or can you sell printed products at good prices?
George: Yes, we find 3D printing fascinating. It's not just an experiment. Actually, we make some components and parts needed on HeX by 3D printing and all of the design files will be shared on the website Thingiverse so that hobbyists can download them to make and customize a HeX for themselves. Also, we'll sell HeX and its parts via Shapeways, which we think is a new way to sell hardware.
Your hardware website is all in English – which markets are you aiming at?
George: We're aiming at foreign markets, particularly North America that is a huge and mature market for things like HeX.
Does your startup have any funding, and how large is it right now?
George: We haven't drawn any funding yet. That's why we're planning to get funded on Kickstarter.com and we hope to draw some seed funding as well. Right now we have six employees and two interns.
---
We'll let you know when HeX hits Kickstarter. In the meantime, check out this two-minute video of the drone in flight:
(Video on Youku for China-based readers)
[Photos via
Jiasu.do
– article in Chinese]