If you've got an iPhone or an Android smartphone, you've probably already got a voice assistant in the form of Siri or Google Now. But they generally only respond to particular inputs. The Indian-made app Shifu wants to be your even smarter "smartphone sidekick" that analyses the way you use your phone so that it can make active suggestions about things to do. It's halfway between being an assistant and a to-do list.
Prashant Singh, the co-founder of the startup behind Shifu app, tells us that the idea for such an algorithmically-charged app came from his previous job where he decided to analyze an app's active usage patterns across times of day and locations. He used that information to boost his former employer's app in terms of user engagement by sending out well-timed push notifications. All that data led Prashant to realise that "most folks don't have any fixed idea what to do in that unscheduled free time [… and] you need to nudge people at the right time and they are willing to take the cue and act on it." That's a big part of what Shifu does.
Inspired by a Chinese master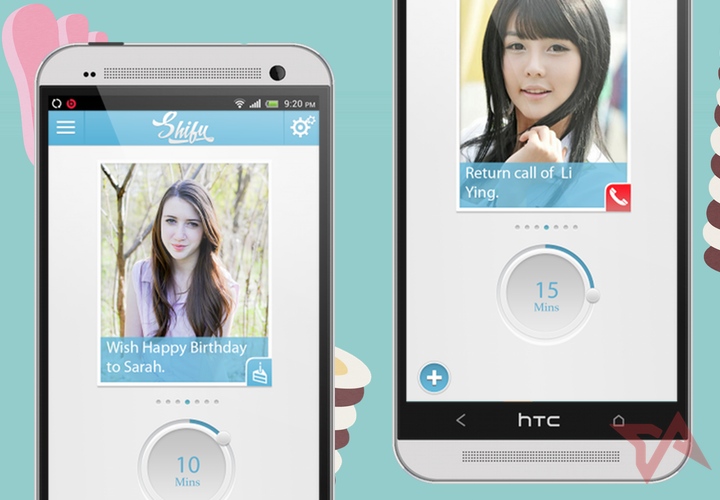 And so Shifu doesn't demand you make normal to-do list inputs for every task that you want to mark out and will instead keep an eye on what your Android phone is doing to give you a nudge at the right time. For example, if you tell it "Whenever I talk to John next, remind me to ask him for my money," Shifu app will do that when it notices you're actually calling John. Or, if you ask it to remind you to check out a certain coffee shop, the app will do so when it detects you're in the right area. It's not about time – it's about the right time.
The name Shifu reminds me of the Chinese word for 'master'. Indeed, Prashant confirms that was the inspiration, since the idea of a word that also stands for a teacher or an enlightened friend made a lot of sense for the app. But while the Chinese word shi fu is pronounced sort of like "shur-foo", the app's name is sounded out as "shee-foo" – at least according to the demo video you see below. Prashant says it helped that the URL with that name was easy to get. The team also considered names like Sidekick, Emit – "time spelled backward" – and Geisha. But I think they picked the best one.
One big downside to the app – for me, anyway – is that it demands Facebook Connect, which is something I don't like to do for any app that isn't specifically designed for me to post stuff to Facebook (like Instagram or something).
Expanding and hiring
The app's makers, Signal, are a three-man team (all co-founders) who will expand soon by hiring some new staffers. This is Prashant's fourth startup experience, but his first one as a founder. The team has seed funding, and says that more investment will be revealed in a couple of weeks. Speaking of the scene in India, he says:
The biggest disadvantage we have is that it's hard to find the right kind of design and product talent in India. It's a chicken-and-egg problem because no one has built a global product from India before so no one knows how to do it. First one to do it has to learn a lot of things on his/her own. In this respect, the ecosystem in Silicon Valley is more evolved. There you can get more experienced advice from people who have done it before and understand the nuances of product management and startup. Same goes for access to capital: investors in the Valley are more comfortable betting on new ideas by first-time entrepreneurs.
The Shifu team will focus on its Android app for now – I wonder if the app is even possible on iOS due to Apple's restrictions on what information from the system an app can access – as they aim to help people "make best use of their smartphone."
Life happens – or slips by – while we are busy doing 'other' stuff. One key to a fulfilling life is to manage your free time better by spending it on doing things which really matter. Often we fail to do that. That's where Shifu steps in.
And if you're interested in more ways of better organising your life and your smartphone use, another Indian startup has created the data-driven Friday app that makes analytics from your life and movements.
Shifu for Android is free in the Google Play store. Check out the demo video too:
(Editing by Enricko Lukman)