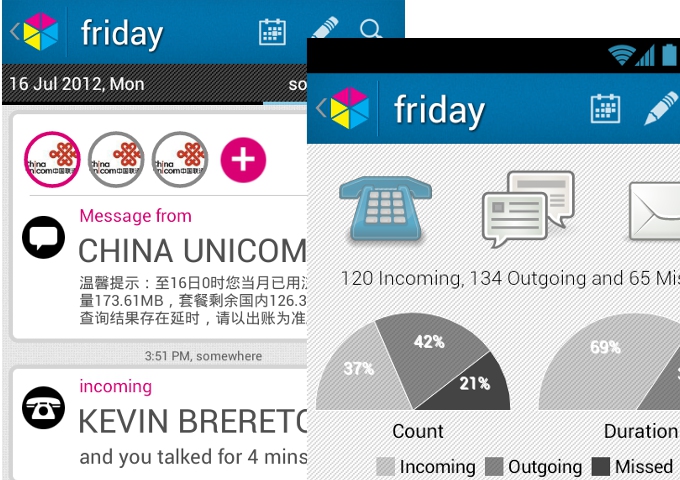 The Indian startup that created the much-lauded Iris app – aka: "Siri for Android" – has another impressive Android-only creation with the newly-launched Friday. The tagline for the Friday app is that it lets you "forget to remember" – so it's an all-knowing, auto-compiled journal of your calls, messages, photos, movements, and all kinds of other things. After using it for a while, you could ask it, for example, to show you all interactions you've had with one person, and all the relevant calls, mails, messages, and other data would be filtered to show you exactly what you want. The app can even make infographic-style analytics out of your own habits (pictured above). Apparently I miss 21 percent of all incoming phonecalls – most of which I skip deliberately if it's a random number calling!
Friday app has been in beta testing for a while, and went live on Google Play (fittingly) last Friday. The co-founder and CMO of its makers, Dexetra, is Binil Antony who tells us:
We had a couple of thousands beta users for over two months, and we have captured over 10 million documents – which includes over a million photos, another million songs that they played, thousands of favorite locations, etc.
Now, after a few days of being launched, those numbers have exploded, and Binil says that Friday app is now adding "1.5 million records a day" for its users. Plus, Friday has add-ons that it calls "applets" which are also made by Dexetra and show a different aspect of your life that can tune into all the data on the Friday app. The first such applet is Trails, which is a separate app download (I'm using provided images here, as I clearly don't get out enough to test this part):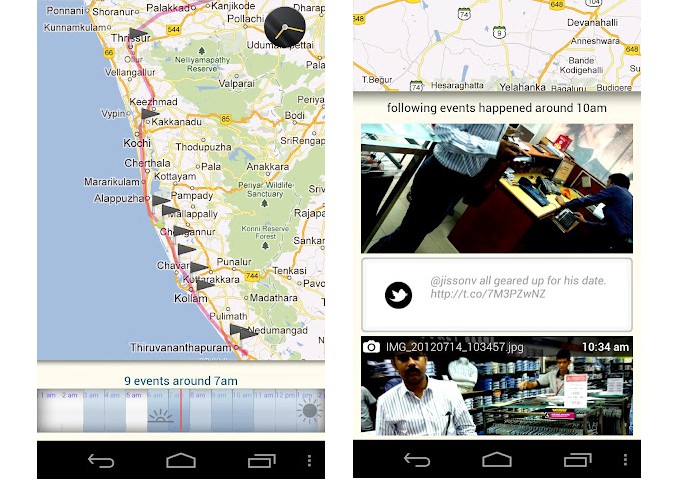 Trails is free to download, but Binil explains that some "of these applets may be premium ones. Thus, our business model." These will come at a later date.
Friday app uses some of the clever tech from its Iris voice assistant so that you can ask the app a question in natural English as part of its search of your compiled data. Binil adds:
We might now be known to Android users as the creators of Iris, but essentially Dexetra always thought of Friday as our real vision. Iris merely uses the Natural Language Processing (NLP) Engine developed for Friday.
At present, Dexetra is a team of 15. Last December it raised $200,000 in seed funding.
Grab Friday app and, optionally, Trails, from Google Play.