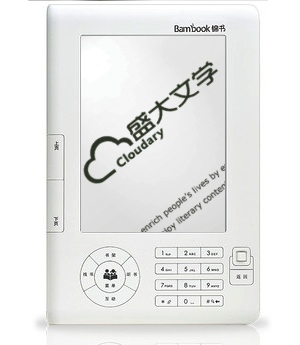 Here's a sentence we've uttered before but which came to nothing: the Shanda Cloudary US IPO is supposedly back on track. Yes, the Shanda Interactive (NASDAQ:SNDA) e-book platform subsidiary, Cloudary, has reportedly pencilled in April 2013 for its public listing – that's after filing with the US SEC back in May of last year only to cancel its IPO procedure in July of 2011.
Shanda Cloudary has not confirmed the April 2013 date officially, but the digital publisher and e-books portal – which also makes the Kindle-like Bambook e-reader (pictured right) – is known to be very keen to get the IPO lined up. It hopes to list on the New York Stock Exchange under the NYSE:READ ticker.
The most recent amendment to the original F1 SEC filing (here) is from this summer, and it outlines how Shanghai-based Cloudary generates revenue from a mix of licensed titles and original, user-generated e-books. Its largest user-facing site is Qidian. The prospectus explains:
We own and operate the largest online Chinese literature community in terms of user base. Our six original literature websites attracted in the aggregate an average of approximately 66.9 million monthly unique visitors in the first quarter of 2012, according to the iResearch report. We nurture a large and growing community where aspiring authors can find a ready and engaged audience and readers can discover and support their favorite authors.
Shanda Cloudary – formerly dubbed Shanda Literature – recently appointed a new chairman in 'Robert' Qiu Wenyou, a former investment banker at Merril Lynch. He's also the new president of Shanda Interactive. As such, he's responsible for Cloudary, video site Ku6, e-payments platform Shengpay, Shanda's advertising platform. The gaming division, Shanda Games (NASDAQ:GAME), is separate. The installation of the Merril Lynch man is seen as a sign of how much Cloudary wants to get in shape for its IPO.
In 2012 Q1, Shanda Cloudary pulled in RMB 191.4 million (US$30.52 million) in net revenues, and managed to escape from its loss-making ways to convert RMB 3.07 million ($490,000) into a profit.
[Source: Techweb – article in Chinese]