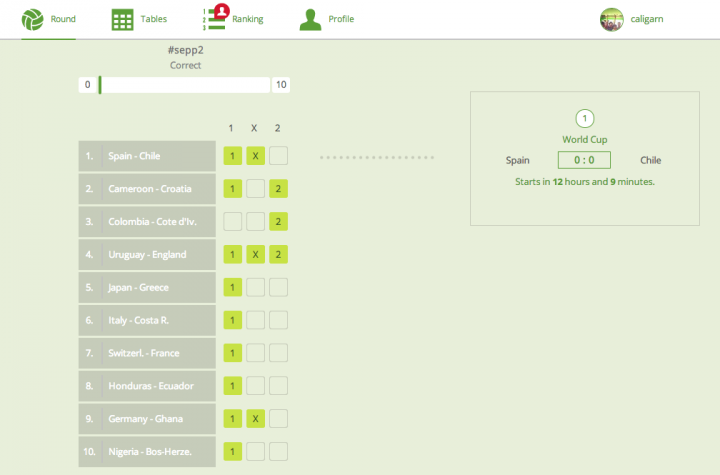 If you're like some of us at Tech In Asia, you're staying up late into the night (or early morning) to catch a glimpse of amazing goals from folks like the now infamous Robin Van Persie. In the midst of this year's World Cup, global tech companies are finding ways to capitalize on soccer fever. Facebook featured last night's matches on its new Trending feature, Twitter has dedicated a hashtag and column, and even Google's been sporting a World Cup doodle. From the little town of Da Nang, off of the central coast of Vietnam, comes friendly betting startup Sepp.com.
The duo of co-founders, Anders Palm and Uyen Vu, formerly founded and sold Eat.vn to VC Corp in 2012. They've since quit VC Corp and decided to continue their serial entrepreneur journey with Sepp.com. Anders, originally from Sweden, who I personally met for the first time watching the World Cup at a bar in Ho Chi Minh city four years ago, has been living in Vietnam for more than seven years along with his co-founder Uyen Vu. He's loved soccer ever since he was a kid, so Sepp.com was a natural pet project for the team to take on for the last few months in the runner up to the World Cup after resigning from VC Corp.
The basic premise of the product is that you can bet on the next ten games at the World Cup. Depending on whether your team wins, loses, or draws, you'll gain (or lose) points. The point system will determine if you are good at predicting matches or not. The main point is that you get to challenge your friends and colleagues without the risk of losing money on a real gamble.
Up til now, Palm and Vu have been focused on building products for the local Vietnamese market. That includes Eat.vn and other web services like Expat.vn, which provides services to expats living in Vietnam. Sepp.com is their first effort into the global market:
I found that soccer is one of the best connectors of people in the world and I wanted to build my first startup targeting a global audience. I've always played soccer games online to stay in touch with friends back home, but these have been local Swedish games. I wanted to build something where people could compete with soccer prediction skills independent of which language they speak and where they are located.
Palm hopes that the World Cup will only be the first launch – additional matches, perhaps even full seasons, from a variety of international leagues will be added in the future. The World Cup provides a clear format of ten matches each week, but this will be updated to fit the intricacies of other leagues. Palm is looking to monetize Sepp.com with advertisements and sponsorships just like other soccer-related products. Eventually, he may add some kind of real gambling component that puts actual money at stake.
Our mission is to become the de facto standard measurement for how good you are at predicting soccer. The Sepp score ranges from zero to 100 and is based on how well you predict matches week by week, everyone starts at 50. It is a bit like Klout for soccer predictions.
So far, the platform has over 1,000 users hailing from 24 countries since a soft launch on the week of the World Cup. The company is also looking at improving the mobile side, anticipating that people will use their mobile as a second screen while watching the game.
If you'd like to try your hand at predicting games on Sepp.com, click here.