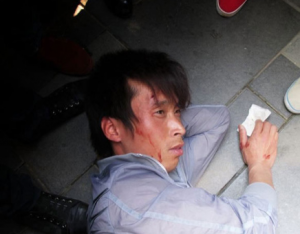 An incident at Apple's flagship Beijing store earlier this Saturday afternoon has left one man – allegedly – beaten by a "foreign Apple employee", three other people injured, and a few panes of glass shattered.
The scuffle comes one day after launch of the wifi-only iPad 2 in China, and a couple of weeks after the white iPhone 4 went global, which resulted in queues of up to 100 metres long yesterday and earlier today at Apple's Store in the hip Sanlitun district of Beijing.
According to – very unclear and incomplete – accounts on Sina Weibo (from where I sourced the photos, above and below), the skirmish came amidst tensions over queues and long waits. The most serious and troubling allegation – for Apple, in legal and PR terms – is that "a foreign employee" actually "beat one Chinese man with an iron rod", in the heat of the incident. No pictures or other evidence can prove this particular detail, at this time.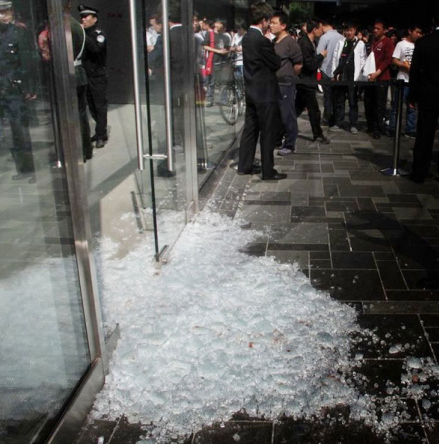 Here's a link to a video of the aftermath of the incident, over on Sina Videos, though it just shows broken glass strewn across the floor, and onlookers gossiping.
There seems to be some anger amongst Chinese netizens on Weibo over the incident, especially the alleged beating. I'll update this post when some clearer and verifiable details become available.
UPDATE 1: A photo showing an injured woman who was briefly trampled in the kerfuffle (from MacX.cn):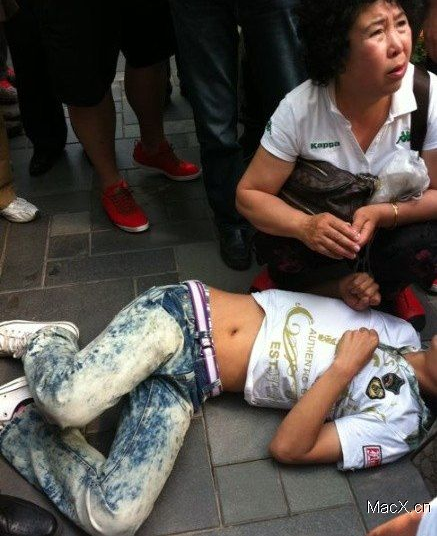 And a 'calm after the storm' shot, showing the Sanlitun store closed by late afternoon, and missing one of its glass doors (from Flickr user Chad_Buckwalter):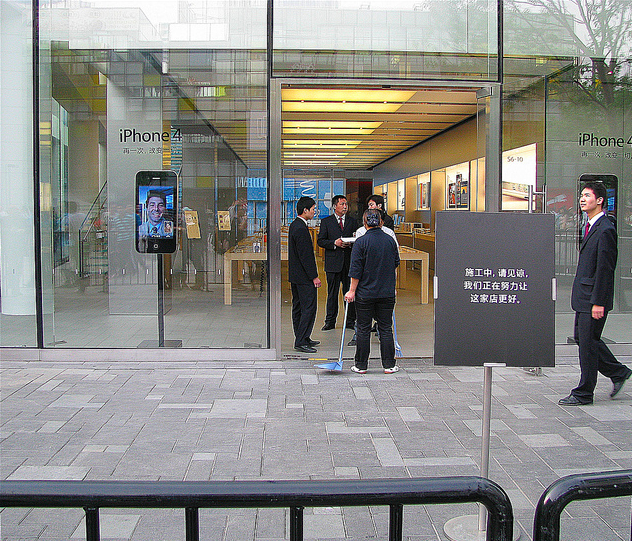 UPDATE 2, on May 9th: Turns out the incident was sparked by tension between 'scalpers' (those looking to resell their white iPhone 4s and iPad 2s for a quick profit) and ordinary customers, as well as queue-jumping.
It also transpires that initial reports were fairly accurate: an Apple Store employee, who is a foreign national, did indeed attack one individual (the Chinese man in the top picture?) and beat him, in a misguided attempt at restoring order. The People's Daily Online this evening (Monday, May 9th; a day and a half after the incident) is reporting that a financial settlement has been reached between the Apple staffer (who's actually the store manager) and the beaten man, to the tune of RMB20,000 (about US$3,000) to cover medical costs. It's not clear if the beaten man was one of the scalpers who caused the initial chaos.