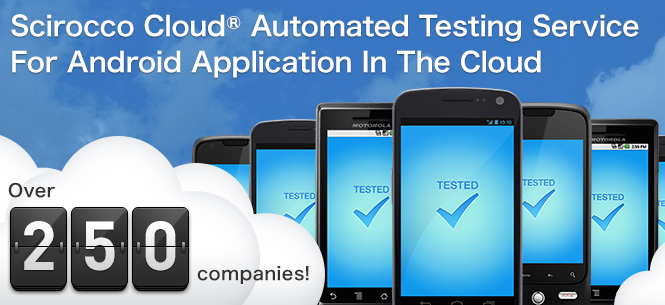 Scirocco Cloud is a Japan-made (by Sonix Co., Ltd), cloud-based Android compatibility testing platform for developers. The open-source Android mobile operating system is used by many handset brands to build phones of many different screen sizes and specs, so building an app for Android is a pain in the ass for many developers.
What may work on your Samsung Galaxy S3 may not work on a HTC Butterfly or a Xiaomi phone. So what Scirocco does is that it allows you to gain access to over 80 Android devices to test your application — both native and web — on a virtual environment.
Scirocco Cloud's founder, Takenori Yoshizawa, said that the startup physically owns these Android devices to make testing possible for his clients. These 80-plus Android devices are connected to his Tokyo server which can be accessed through Scirocco's online platform. One user can access one phone at a time. To curb demand, there are more sets available for popular phones like the Samsung Galaxy S3.
A free user is allowed to test on devices like the Galaxy and Google's Nexus phones with one hour of usage per day. If you pay $199 for a professional package, you get to use Scirocco Cloud for up to eight hours each day. Yoshizawa shared with me more about why developers are using his service:
Buying and maintaining Android phones is very troublesome and costly. With Scirocco Cloud, developers can get accessed to all different types of Android phones through the web. It's very convenient, easily accessible on the web, cost effective for users, and increases app quality.
Most importantly, Scirocco Cloud has automatic testing features for both native applications and web applications. It supports Google's NativeDriver and AndroidDriver as its main testing library. "Since it is automatic testing by using test script, it contributes cost and time savings drastically compared to testing by manpower – approximately one-sixth cost saving," said Ikuma. To date, Scirocco Cloud has over 250 clients using its service.
In the near future, Scirocco Cloud plans to open up data centers both in Singapore and Silicon Valley. With the data center established, Ikuma says that popular Android devices within the U.S. and Asia will be made available on Scirocco Cloud soon. He added:
[Our] professional plan tests one device at a time. [But] premium plans will provide Auto Parallel Testing which is capable of testing 10 to 30 devices at the same time.
You can watch the video below to understand more about Scirocco Cloud's features.