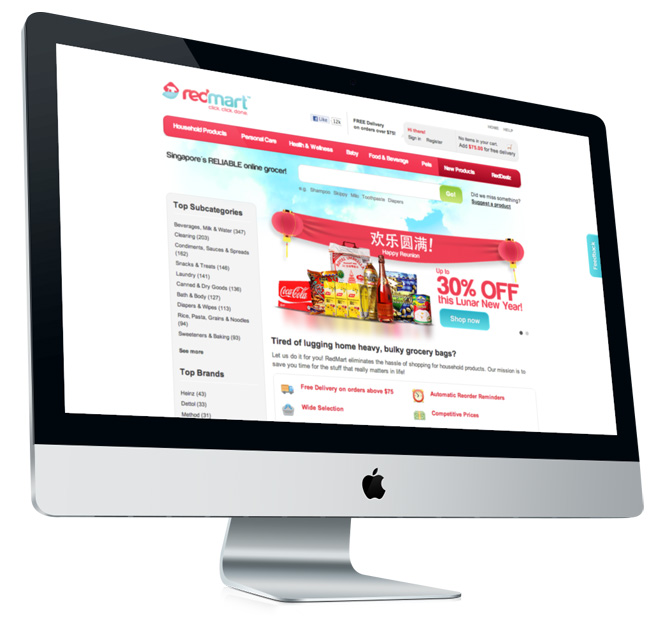 Late this afternoon, Singapore-based online supermarket Redmart confirmed that it has received an undisclosed sum of investment from East Ventures. The investment follows the same terms as Golden Gate Ventures who invested slightly earlier. When asked, Redmart's co-founder, Roger Egan told me:
We like investors that are entrepreneurs. Willson Cuaca [partner at East Ventures] is a great guy and savvy entrepreneur. East Ventures has good e-commerce experience and Indonesia is one of the Southeast Asian countries on our radar and we know their local knowledge and network will be extremely valuable when the time is right.
With money from East Ventures, most of whose portfolio is Indonesian, it seems Redmart is likely to head to Indonesia next. Roger also reveals that Redmart's revenue has been growing between 20 to 30 percent month-on-month. Last month, Redmart revealed that it made about $250,000 in revenue when it announced its larger, new warehouse. Redmart prides itself as an e-commerce company with strong logistic and warehousing capabilities, seeing them as a core part of the business. Not only does it have its own warehouse, Redmart also has its own trucks and drivers to deliver the goods to customers' doorsteps. Roger explains more:
Our business differs from typical e-commerce companies in that we have many more items per order on average. So, optimizing order fulfillment (picking) is even more important to us. We're investing a lot into order fulfillment and last mile delivery technology and we're lucky to have experienced advisors, such as Jason Ackerman – co-founder and CEO of FreshDirect.com, a New York-based online grocer – guiding us in the development of our tech to ensure that it scales well.
We have been talking and tracking Redmart's progress even before its website was launched. Oh boy, how time flies, Redmart is a big boy now.
(Disclosure: East Ventures is also an investor in Tech in Asia. See our ethics page for details).