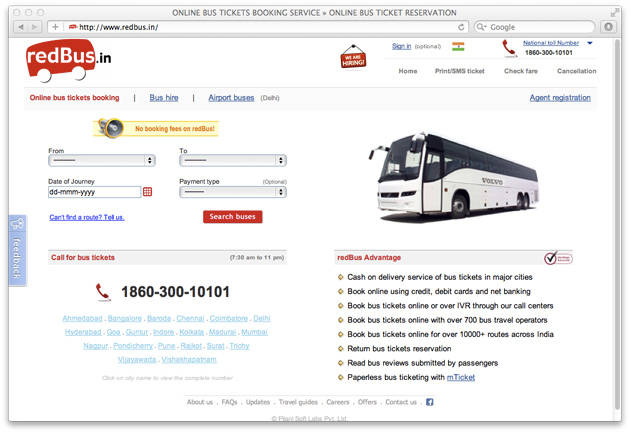 Startups are born to solve problems and to satisfy a social or personal need. And in India, there are tons of problems to solve, and a simple task like booking a bus back home can be a real hassle.
Phanindra Sama, CEO and co-founder of Redbus, experienced this very problem in India five years ago when he was planning a trip back home for Diwali, an important festival in India. To his frustration, he couldn't go because a travel agent told him that bus tickets were sold out. But he tried his luck with several other travel agents and realized that they actually had tickets for him.
And that got his entrepreneurial mind thinking — "Why is this agent not able to get me a seat while other agents can?" he told us. Well, assuming that the first agent isn't a lazy bum, it's basically a problem of not knowing how many bus spaces were left. They can be solved with a proper information system. Phanindra remarked:
Being an engineer, I thought the problem could simply be solved by creating a computer system, where all bus operators put their inventory and all travel agents picked up inventory on a first come, first served basis.
That very idea is the fundamental basis of all his products. Today, Phanindra runs three services:
BOSS (Bus Operator Software System) — An enterprise resource planning (ERP) software for bus operators
SeatSeller — A software developed for travel agents (the middleman between bus operators and consumers) to make bus ticket bookings.
Redbus — A consumer-focused ticket booking system.
As you might have spotted, Phanindra basically serves the entire bus industry food chain in India — from the operators to the consumers.
With an ambition this large, Redbus partners with about 850 bus operators and 50,000 travel agents across the country. Phanindra also told me that Redbus has a whopping two million regular customers and has sold more than five million tickets so far. Travelers can also purchase tickets with Redbus via the phone, SMS, or at 75,000 of its physical outlets.
Phanindra does have business rivals in India, but they are not so large in scale. "There are a few competitors, but they are very regional. None of them are a pan-India company like ours," he said confidently. It's always great to help improve lives while making moohlah — That satisfaction must be great.
As Redbus continues to grow in India, Phanindra is already eyeing opportunities beyond his home ground. And Asia seems to fit the bill as there are several countries which are probably facing the same problem that Phanindra's Redbus can help solve. The Bangalore-based startup is invested in by Seedfund, Inventus, and Helion. We wish him luck.