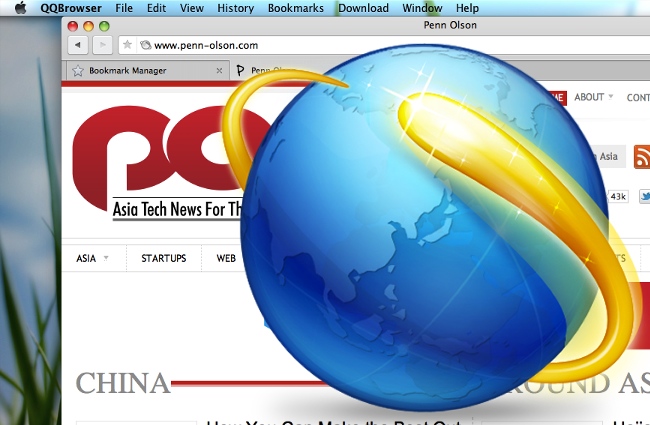 Even though there are remarkably few people in China who use Apple's Mac OS X, local social media giant Tencent (HKG:0700) has done what no other Chinese company has done before – make a web browser for Mac.
The brand-new QQBrowser for Mac has been built from the ground up for its new platform, so it doesn't share too much with its popular Windows-version brethren. It comes with built-in support for Adobe Flash (as does Google's Chrome browser these days), a choice of Chinese or English localization, and the marque feature is that it supports peer-to-peer (such as ed2k) and bit-torrent downloads. The browser defaults to using the company's own Soso search engine, but you can switch that to Baidu (NASDAQ:BIDU) or Google in the settings.
Aside from that, QQBrowser for Mac is really simple, and looks like Safari, mainly due to having its tabs below the URL bar, which now feels like a step backward having gotten used to them being on top (which is one of many reasons I use Firefox on my Mac, not Apple's Safari). The 'new tab' page (pictured below) is simple as well, in the manner of Chrome's, with only eight favourites appearing on my screen.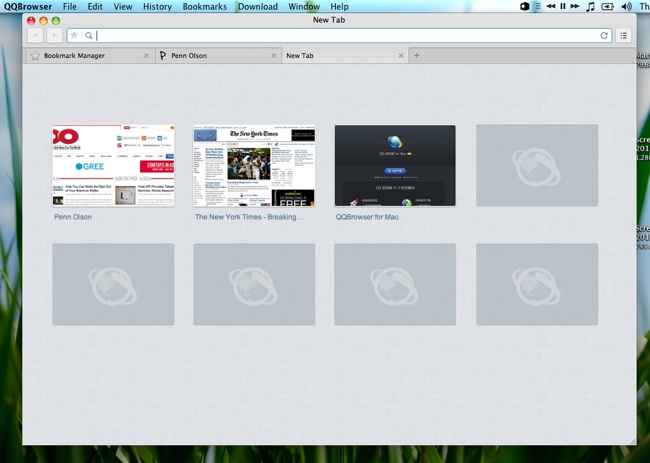 The button at the far right that looks like a list is actually a shortcut to the three main areas behind the scenes: history, bookmarks, downloads. Regrettably there aren't any keyboard shortcuts for the latter two actions, so you've pretty much got to click that icon. The biggest quirk – 'bug' perhaps – of the QQBrowser for Mac is that if you double-click the tab bar, it minimizes the whole browser window, whereas your instincts might tell you that it'd be a useful way to open a new tab (as occurs with Firefox).
QQBrowser for Mac, in summary, is an interesting move, and a good, solid first version, but has no particular charms to recommend it over any other browser for Mac. And there are plenty of other superb options, such as Firefox, Chrome, Sleipnir, or Opera. Oh, and Safari. It'll be interesting to see how much effort Tencent ploughs into this new browser, and if it'll get extension support or some such expansion.
Tencent has been leading the way among Chinese web companies by its bringing some of its core apps to the Mac. In addition to its ubiquitous QQ IM app – which we looked at last summer after it got video chat support – there's also the QQ IME. Yes, that's only two, but it's two more than Baidu and most others.
QQ for Mac is a 38 MB download from its new homepage – but comes to nearly 100 MB once installed – and works only on OS X 10.6 and 10.7.
[Hat-tip to 36kr (article in Chinese) for spotting this]