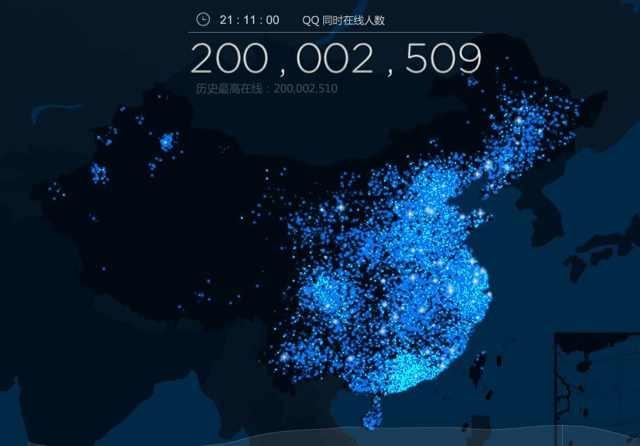 Last Friday, Tencent's 15-year-old QQ messenger and social network might have hit it's final major milestone – 200 million people used the service simultaneously. That's more than the entire population of Brazil all concurrently using a single application.
While Tencent's mobile messaging app WeChat is renowned for having 355 million monthly active users, that number is still dwarfed by its desktop-first predecessor. In it's latest quarterly report, Tencent reported 808 million monthly active users on QQ and a peak of 180 million simultaneous users.
But those growth figures have started to slow as QQ reaches saturation in its home market and the country shifts to mobile. QQ active users decreased by one percent in Q4 2013. While the number of PC users fell, QQ usage on mobile devices grew 74 percent in the past year. QQ now stands at 426 million active mobile accounts.
Its userbase remains ahead of WeChat for the time being, but WeChat's growth is accelerating far more quickly. In the last quarter of 2012, QQ hit 798 million monthly active users, meaning it only grew by 10 million over a one-year period. WeChat, however, grew by 83 million in the last quarter alone.
See: Tencent versus Alibaba: a complete guide to an increasingly fierce rivalry (INFOGRAPHIC)
Still, QQ remains a wildly popular service and continues to evolve. It's become a popular social gaming platform and even an online classroom. The QQ branding also stretches across Tencent's music, ecommerce, app store, microblogging, video, and other services.
(Source and image credit: QQ Tech)