There are a lot of web services promising to help you learn Chinese these days (recently we took a look at another cool one called FluentFlix). But sometimes all the web gadgetry in the world is no replacement for a good teacher, and thanks to the magic of Skype, there's no longer any need to find a teacher who is actually in your area.
QLearnChinese is a startup (sort of) that hopes to take advantage of this by offering affordable 1 on 1 classes with Chinese teachers via Skype. Unlike some similar offerings, it's not just straight tutoring, though; QLearnChinese has a number of classes with set curriculums to choose from (everything from "Survival Chinese" to "Chinese for Job Interviews"), although if needed, custom classes are also available. To learn more about QLearnChinese, I sat down with founder Anton Doos to talk about how he got started and what his service is all about.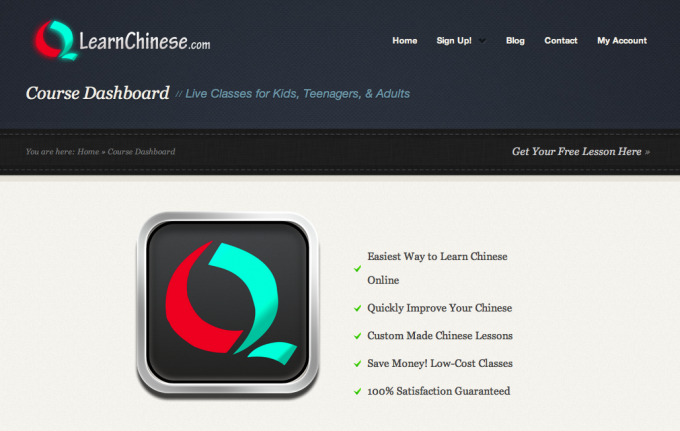 How did you get the idea and the inspiration for QLearnChinese?
I desire a completely portable income and am always looking for opportunities to do this. Years ago I thought Skype teaching was portable, would be fun, and cross-referenced many of my skills (as a tech-savvy teacher). Recently I moved to Chengdu to meet a friend coming from Singapore to work on Ivy Admissions (tryivy.com) together. At the same time I was teaching a few hours a week. I told my boss at the school I would like to make websites, we talked, and partnered up to make QLearnChinese a few weeks later.
What does your team look like right now?
The parent company has many parts. There are 4 English schools, a city map, au pair programs, a charity program, and the list goes on. But there are about ten people working on qlearnchinese.com.
Why is studying with your teachers any better than just finding a language partner on Skype?
A language partner on Skype is a friend or acquaintance. The student-teacher relationship has many differences. While friends have equal rights, a teacher in many ways is solely there to cater to the student's needs. Our teachers are all qualified with diplomas, which means 4 years rigorously studying scientific ways to teach Chinese effectively. Recruiting is standard through websites and job advertisements while testing is administered by both experienced Chinese and Western teachers.
What comes with the courses? Are there also class materials or is it purely a skype tutoring session?
It is expected a student reviews the class material and memorizes new vocabulary between classes. Additional work all depends on the student's schedule. Some students want a lot of homework, while others simply don't have time. If a student requests homework we will find news articles and texts in relation with the class's subject matter or something else, all depending.
Not everyone has an easy time skyping with China, especially by video. Have you had issues with call quality at all?
There have been no real issues aside from a whiteboard being out of focus. Video on the web is very stable compared to 5 years ago through the sophistication of open-source codecs, Skype, and G+ Hangouts. The faster the connection – the better quality, and we can see efforts by projects like Google Fiber to drastically increase average internet speeds. Looking ahead, video on the web should be as easy as clicking a hyperlink (and for many people it already is.)
Do you see this as a one-stop way to Chinese fluency, or a supplement to a more broad approach to studying the language?
We are like a one-stop-shop in that we provide a step-by-step service from zero ability to full fluency. Everything a person needs to learn a language is provided by a qualified private language tutor. However, any good teacher believes learning should not stop when you leave the classroom and when learning Chinese there is no difference. The best thing anyone can do is make friends to talk to in their language of choice. Reading news, keeping a diary, or watching movies are other excellent ways to speed up language acquisition when you are not supervised by a teacher.
Your offer of customized lessons seems to suggest from time to time you might need to find teachers with special expertise. How do you accomplish that, and does that limit the scalability of your business?
When a student comes to us wanting to learn Physics in Chinese the expectation is that they already have Physics skills and need to simply port them to the Chinese language. In this case, finding a qualified teacher is not so difficult. I remember one time being asked to teach a Chinese rocket scientist. I obliged even though I failed Algebra. It turned out he was going to a conference in Germany and just needed to make sure there were no grammar problems in his speech.

In the case a student wants to learn Physics from the ground-up it is still possible. As lessons are online, teachers can be anywhere in the world. If there are special requests it is possible we can find a qualified tutors for anything. Because of the option to outsource contractors through a work-at-home model, our teacher pool is virtually limitless. So far though we have not had such a special request, and our teachers all come to work in our offices.
Where will you go from here? Any plans to add additional learning tools into your system?
The site is version one right now. The most immediate feature being added is the ability for students to watch all of their previous classes through their account page. Things like this to emphasize the advantages of what an online class can do better than offline one are the priority. Less focused tools, like character learning flashcards are not on the horizon. For now we are continuing to improve the service already on the table. In the long-term we might try working towards a more crowd-sourced model for connecting students & teachers.
Any interesting stats or accomplishments you can share with us thus far?
I think it is interesting just how fast everything came to be. From concept to website and our first full-time teacher was only about 1 month's time. QlearnChinese.com is very young. For start-ups deciding on which route to take with their website I wholeheartedly recommend WordPress as your content management system. Our workflow:

Purchase domain and hosting
Install WordPress (Free)
Themeforest.com choose a theme ($50)
Write content
Freelancer.com for any bugs or features needed
All in all, QLearnChinese looks like a pretty interesting solution for language learners who don't have the time, opportunity, or bankroll to enroll in a traditional class. Having studied Chinese in pretty much every possible way, I can attest that while there is some value to having a class with other people in it, one-on-one classes are a great way to progress quickly, especially when it comes to the all-important tones and pronunciation. So if you're thinking of learning Chinese for business or pleasure, QLearnChinese might be a good option. Thankfully, you don't have to decide on the spot; the company offers a free 15 minute trial lesson for new users.