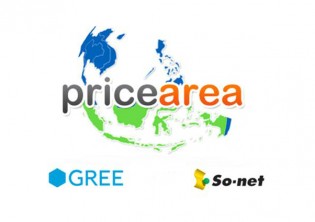 (UPDATED: PriceArea has raised series A funding, not series B.)
We just received word that PriceArea, the largest price comparison search engine in Indonesia, just announced that it has raised an undisclosed amount of Series A funding. This new round brings the valuation of the company to 'a couple of million' hinted Andry Suhaili, the CEO of PriceArea. Among the investors in this round are GREE Ventures and Sony's So-net which marks their first investment in Indonesia. The plan is to use the additional funding to expand PriceArea's current operation and marketing activities.
The company, which was founded back in April 2010 and launched the following May. PriceArea raised its first seed round from East Ventures [1], and so far has around 22 employees (around nine are engineers). The company also plans to make a major push into the Southeast Asia market by customizing PriceArea products and services according to specific market demands in each country. Tatsuo Tsutsumi, partner at GREE Ventures, commented on the investment:
This round of funding is perfectly timed to grow PriceArea to meet the market demand and expansion plan to Southeast Asia.
Andry Suhaili, CEO of PriceArea, also added:
We are extremely excited to have two reputable companies such as GREE Ventures and So-net share in our vision. We look forward to tapping into their experiences and technology as we plan to take PriceArea into global expansion.
Currently PriceArea has 5,000,000 listed products and 75,000 merchants (online and offline retailers) which is massive compared to its competitors. Recently they also have introduced ITeCS, awards for Indonesia e-commerce players. With GREE and So-net joining forces on its board, PriceArea's expansion to Southeast Asia should be a little easier.
---
Disclosure: East Ventures is an investor in this blog. Please see our ethics statement for more information.  ↩