PriceArea.com is an online price and product comparison website in Indonesia with over 1,200 online stores and marketplaces listed. Users are spoilt for choice with more than 1.2 million products to choose from.
It has been an amazing ride for Andry Suhaili (also a drummer below), Founder and CEO of PriceArea, and we're glad to hear more from him. In this article, Suhaili shares with us his inspiration and vision as he leads one of the hottest start-up properties in Indonesia, PriceArea.com. You can also catch PriceArea's first article with Penn Olson here.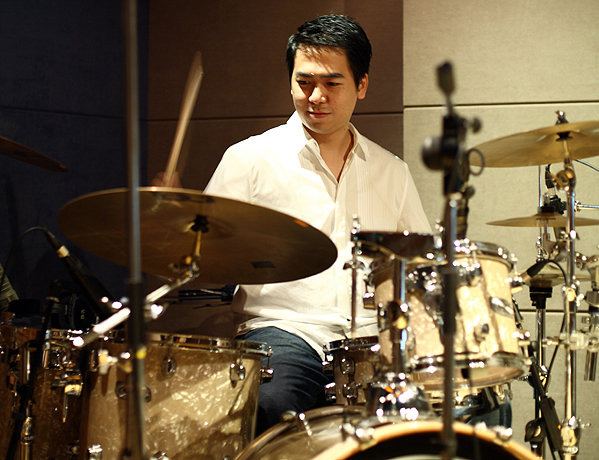 1. What's PriceArea's story?
PriceArea was first founded and developed on December 2009 and its Beta version was released to public on mid July 2010. It was the first price and product comparison website in Indonesia. Before I poured all my hopes and dreams into PriceArea, I used to run my own advertising firm for 7 years. That's where I picked up most of what I am now, combined with what I've studied as a Computer Science and Computer Animation graduate from The Art Institutes of California, Los Angeles.
Since its inception, PriceArea has been backed up by my 3 other web developers namely Agung, Ivan and Yusuf – They are highly motivated, hard workers with positive attitudes. I seriously enjoy working with them.
2. What are some of the most difficult experience when creating PriceArea?
a. Getting information from merchant's website.
Huge information and wide variation of format require us to build a technology that can crawl and analyze the merchants' sites. We need to find the right product title and descriptions as well as the prices they offer. Of course, we have to make sure our crawler continuously visit the merchant's website in order to ensure all information is up to date.
b. Engaging the market.
With over 40 million Internet users in Indonesia, we understand that the majority of them are still depending on giant search engines such as Google or Yahoo to find information. One of our biggest challenge is to tell the market to start using and rely on PriceArea when it comes to online price and product search.
c. Scaling and Adapting.
Being a start-up with limited resources, we've been putting our best time and efforts in maintaining our server to accommodate the increasing user traffic and greater complexity of our product.
3. What's your business model?
We do not charge users anything to use our service. Instead, users will benefit from our easy-to-use tools, time saving navigation and quality search algorithms. Currently, our revenue is mainly generated through advertising platform such as display ads, sponsored links, white label APIs, skin branding and many more.
4. How are users using PriceArea?
Our content is user generated. Everyone are welcome to use our service for free and no sign in is required. A user can become part of the community by signing up too. There are 2 ways which users are using PriceArea:
a. As Price and Product Aggregator Site
PriceArea covers retail products. That's our specialty. Over the past 6 months since our beta release, we have expanded to over 1 million products across 20 different product categories.
b. As a Research Hub
Our aim is to act as an intermediary between online shoppers and online retailers by providing the most accurate, reliable and unbiased information through ratings and reviews system on every merchant. It is a side-by-side product and price comparison with detailed product information, reviews,
price trend and many more!
5. Any future plans ahead?
We are continually improving new and visible capabilities to PriceArea that are aimed at helping consumers search and shop better. We are doing so by embracing a new and unique approach in the online industry – both in terms of creativity and technology. We always try to enhance our offerings by continually adding the number of merchants and products.
6. What's your best advice received by mentors?
Here's one: "Everyday is a challenge. You wear different hats everyday – from top level strategizing to managing operations, from being a lawyer, accountant, webmaster and HR manager all at the same time. That being said, the experience you get is truly amazing!"
Connect on Facebook: