New download stats compiled by Chinese app store 91 Mobile show that, in 2012 Q1, it saw the rate of Android app downloads more than double since the same point last year. The store, which added over 330,000 individual apps in the past year, saw a grand total of 900 million Android downloads in the previous quarter, up from 700 million in 2011 Q4. That vast number includes app updates. Here are the main growth rates (noting the silly mix-up in blue-yellow colour schemes):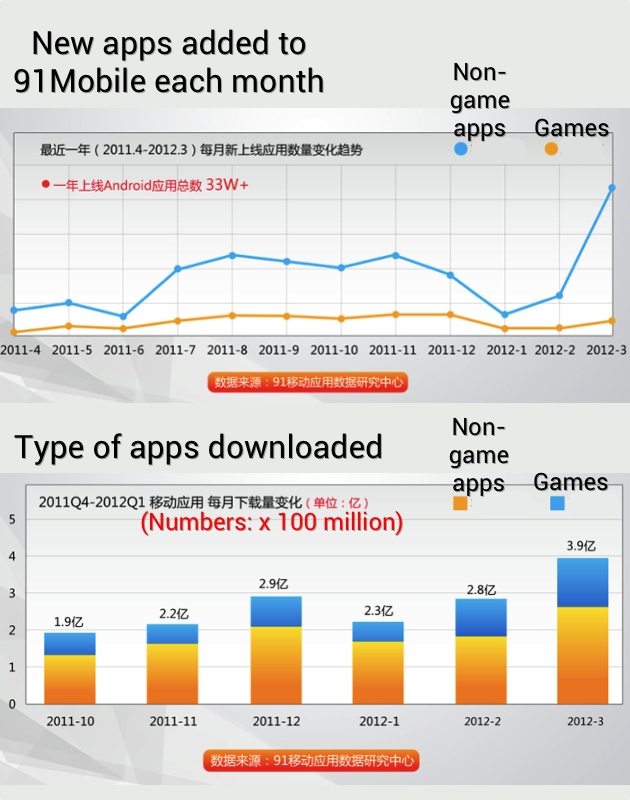 These 91 Mobile figures are compiled into a new report by the startup third-party store (complete with the graphs you see, onto which we have put English captions), and also reveal trends in what Chinese smartphone users are downloading and perhaps using. Since few local web companies make use of the Google Play Store, the 91 Mobile stats actually give a more accurate picture of Android user-ship in the country than Google itself could offer. And so we witness a drop in the popularity of IM apps – such as Tencent's QQ – this year, and a shift towards downloading lifestyle apps that help folks eat out or find stuff to do, like Buding Coupons for example: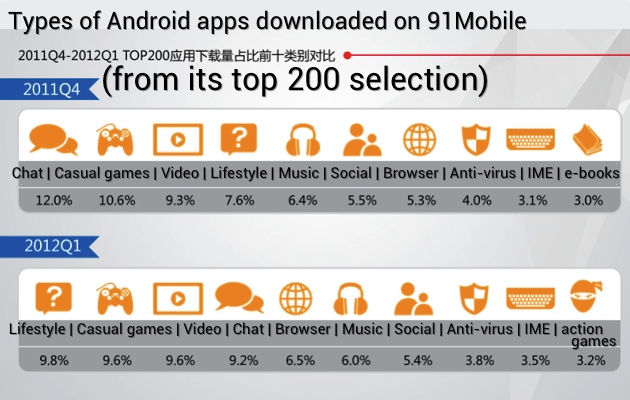 Looking at just two of the dozen or so app categories, we see the bulk of the graph moving in sync with the ever-expanding app numbers – but some kinds of apps are growing faster than others. A rapid riser right now is social commerce, with such Pinterest clone apps as Meilishuo and Mogujie rising from nothing to experience exponential growth in download numbers: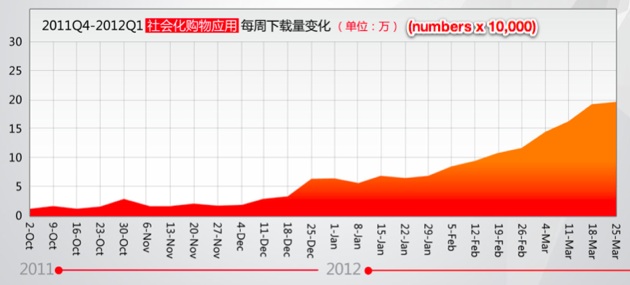 In contrast, more conventional e-commerce apps are not seeing such proliferation – but that's likely just because it's already a well-developed category, and folks already have their Taobao, 360Buy, and Tmall apps installed: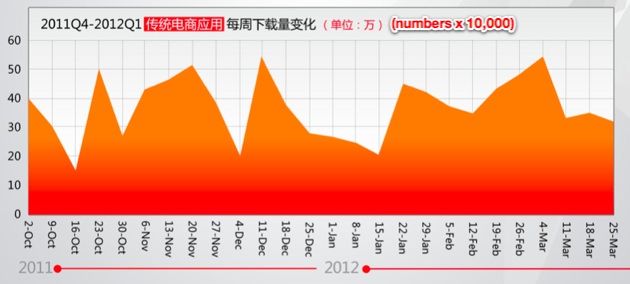 If you're still hungry for graphs, check out recent data that shows Android is the dominant mobile OS in China, accounting for 68.4 percent of smartphone sales in the country.
[Source: 91 Mobile (PDF link); via 36kr – articles in Chinese]