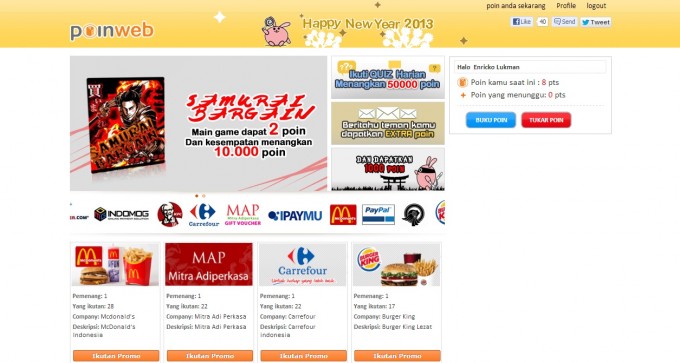 Another Japanese company is eyeing a few slices of the Indonesian market, this time in the form of online points provider Poin Web. The site now offers users in Indonesia free points, redeemable for prizes from the site's list of merchants, by undergoing certain online activities.
This is similar to the business model of another Japanese reward website, Excite Point. And while this model is still quite new to Indonesia, the ambitious Poin Web team is aiming to gather one million users and 300 merchant partners by the end of this year.
There's no such thing as a free lunch, of course, so the real reason behind this is advertising. Looking over the Poin Web site, there are currently 17 activities from which users can earn points. Those include looking for a hidden cute ninja inside the website, filling questionnaires, playing simple games, clicking merchants' websites, and promoting merchants' Facebook or Twitter pages. Some of the activities also act as 'lucky draw' contests which promise vouchers to some lucky clickers. Users will earn points from doing those activities, which mostly can be done without spending a dime.
The collected points can then be redeemed as vouchers for Poin Web's merchant partners like Starbucks, Rakuten, and PayPal.
The site's aforementioned activities act as an alternative to online advertising channels for brands and merchants. Poin Web earns money from CPA (click per acquisition) according to the merchants' requests, such as making users visit to a designated website.
Point hunters?

Poin Web is a joint venture between Japan's RealWorld Asia and Indonesian financial group Corfina. Poin Web COO Tatsuhito Muramatsu admitted to TechinAsia that there's the "point hunters" problem with such services. Point hunters are users whose personal aim is to garner as many points as possible, but without giving any tangible benefits to the merchants. For example, such point hunters are people creating extra accounts to multiply their points, and so merchants get little value out of zombie accounts.
Muramatsu said that though RealWorld has had seven years of experience in this field, and has implemented solutions to improve the quality of users for corporate advertisers, the point hunters issue cannot be avoided completely. He explained that a lot of RealWorld's clients actually come back for repeat collaborations, so this can only mean that the point reward business model works for them.
At the moment, Muramatsu believes that gathering new users in Indonesia won't be an issue for them. He added that his main concern is adding more activities on Poin Web. Among those are crowdsourcing, and doing micro tasks like writing simple articles for users to earn points (1). Several foreign companies are also interested to deploy its business in Indonesia by utilizing Poin Web's services.
We need more points!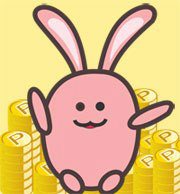 The point reward system looks good. But maybe this model appeals more to younger or poorer web users due to the low amount of points awarded. Take for example the fact that users need to exchange 52,500 points to receive a IDR 50,000 (US$5) voucher from PayPal, which means one point is equivalent to around IDR 1 (just one-hundredth of a US cent). And most activities reward users in the range of one to two points only. That means the effort results in little reward.
Granted, there are activities which can get 1,000 to 2,500 points for each friend referred, but in the long run, I don't think referrals can be the main weapon when someone wants to collect the points on a regular basis. Sometimes the activities also offer lucky draw of vouchers valued between IDR 50,000 ($5) and IDR 100,000 ($10), but unfortunately the voucher is given to only one winner for now.
The points reward system is attractive to some advertisers, as users can receive prizes through points gathered from online activities. But I think its success lies in the feasibility of each user winning the prizes there. Or greater real-world rewards than a miserly one-hundredth of a cent.
---
Ed: Don't give our boss any ideas!  ↩