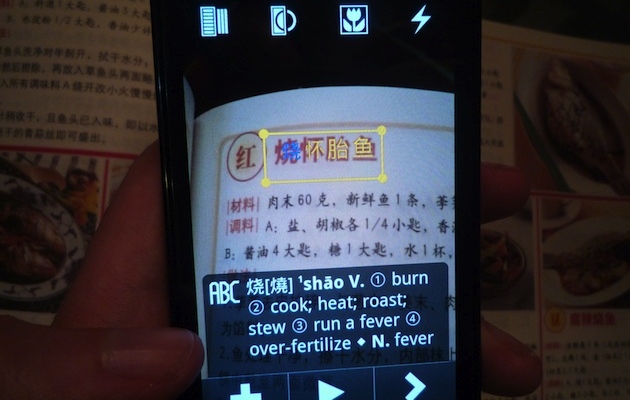 After months of rigorous testing, feedback from hundreds of voluntary testers, and seven beta versions, the Android iteration of Pleco dictionary has today gone gold, and now finds a home in the Android Market. It comes with OCR abilities so that it can scan and 'read' Chinese characters using your smartphone's camera, handwriting support, voice recognition, and numerous dictionary options.
Its range of features means that it can be used by the most casual of tourists who might want to scan a menu whilst visiting China, to the most studious of students of the Chinese language who might need to add specialist dictionaries and make flashcards.
But since there's no such thing as a free bowl of noodles, many of the Pleco app features are paid add-ons. You can buy them individually (see the store link below) or in two separate bundles: the basic one for US$39.95, or a pro package for $79.95.
---
OCR is Your New EyeBall & Brain Combo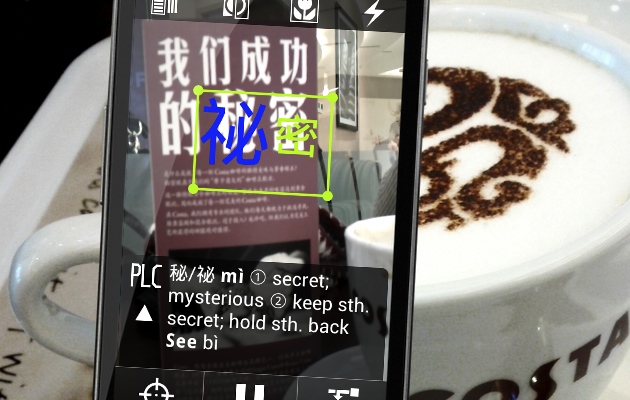 The OCR feature is perhaps the most important when reading a language where the letters are actually characters that can't be sounded out as with English phonics. And so the Pleco for Android app – like its iPhone brethren – can be your new brain and eyeballs in decoding Chinese characters, picking out words and phrases that'll help you decipher a sign or menu. Or for students of the language, it'll shine a light on a new and complex character. As seen in the picture above that I snapped at a coffee shop earlier, those final two characters are a phrase meaning 'secret' or 'mystery.' All that OCR magic is of course tied to the dictionary and a whole bunch of other features – such as audio pronunciation – in the app.
The Pleco app's OCR is exceptional, in contrast to the frustrating experience I've had with a cheaper app that I won't name, or with the patchy performance of Tencent's effort (though that, in fairness, is designed for the polar opposite purpose: helping Chinese people figure out English). Pleco's scanning will inevitably baulk at most handwriting, and will struggle to see Chinese text on a pixellated computer screen, but out on the street or in the home or office, it was pretty much flawless. The OCR for Pleco is a $15 add-on. Yes, that isn't cheap, but it's a quality-versus-price value judgement for people to make.
---
Words, Glorious Words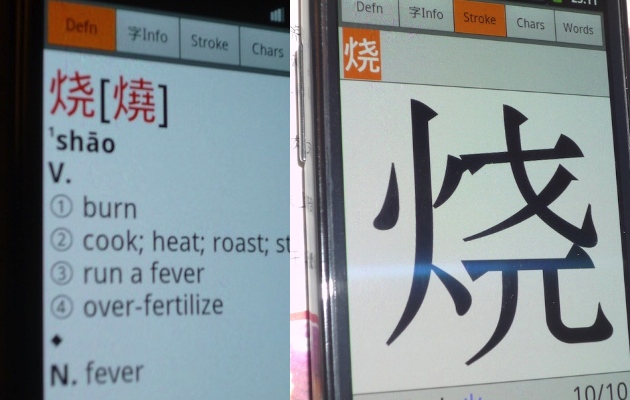 The dictionary can be used by itself if you need, and works for translating both ways. As seen in the photo above, the dictionary is a springboard for any other query you might have, such as adding the character to a flashcard collection, or viewing an animation of the stroke-order and 'radicals' that make up the han zi in question. In the example, I wanted to take a look at what constitutes the 'shao' character, as seen in my cookbook.
Without even mentioning other features, such as handwriting input and how you can use it to learn how to write Chinese, Pleco is clearly a powerful tool, and is a welcome addition to the Android platform. The company behind it, headed by Michael Love, has been crafting the app for just over the decade, steering it from Palm OS to iOS, and now onto my favourite mobile OS as well.
The base app is free in the Android Market, and additional bundles can be bought in-app. Or, for those who dislike Google's payment system, you can pay via PayPal or some other method on the Pleco store. [UPDATE on January 28th – Pleco's Michael points out that Market users in China cannot see the app in the store, so instead grab the app file from Pleco's Android page until a separate version for China is submitted].
To see the OCR in action, here's a short demo (though of the earlier iPhone version) of how it looks: