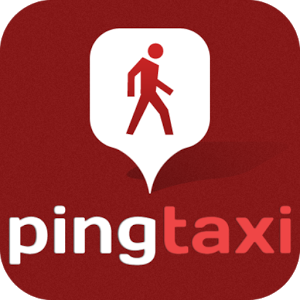 Uber is one of the most promising companies coming out of Silicon Valley these days. As this Quora answer outlines, the potentials for a shared economy platform for logistics and transportation are exponential. Is it any wonder why Google Ventures and TPG invested $258 million into Uber? Uber solves infrastructural problems while unleashing a massive untapped shared economy. Thus, of course there are Vietnamese entrepreneurs rushing to replicate the model. Vietnamese entrepreneurs, after all, love to copy Valley models and adapt them to Vietnam. Ping Taxi is one of them.
PingTaxi and Tappxi square off in separate cities
Ping Taxi, which first came out in May, is a taxi-hailing app targeted at the local Vietnamese market. Ping Taxi is an Android app only, and it's based in Hanoi. It resembles Uber in that it requires drivers to have an Android device so that customers can find out where the nearest drivers are. By looking at the map on your Android phone, you can see where the nearest taxi drivers on the system are. It's therefore more advanced than Tappxi, but more problematic.
Ping Taxi competes with Tappxi, which came out in May. Tappxi, which TiA covered earlier this year, is aimed more at the foreigner market. More importantly, it only lets users call taxi companies, rather than specific cab drivers. Its greater goal is to help people make sure that taxi drivers don't scam passengers by running up the tab while going for a spin. It calculates the cost of a trip and lets users know how much they should be paying. Tappxi works on both iOS and Android and is based in Ho Chi Minh city.
PingTaxi's chicken and egg problem
PingTaxi has a chicken and egg problem. Currently, there are only 110 drivers on the platform and 3,000 users on the app. The problem is there are thousands of drivers in Hanoi, and a large majority of them are not on this system. They're also largely accessible – you can easily step out the door and catch a cab, which almost defeats the purpose of the app. The main benefit is that you can rate drivers, identify the location of your favorite drivers, and hail them directly in the app.
Hoang Van Hau, CEO of PingTaxi, says that he has been running advertisements on the radio and offering a small bonus to incentivize drivers who sign on with the platform. That is, taxi drivers who have Android apps and know to download them. This is difficult because most taxi drivers do not own Android phones and make anywhere from $500 to $1,000 a month. But Hau is confident that this will shift as Android devices become cheaper.
After we grow the customer base, and taxi drivers are reaching above a certain level of customers through our platform, we can charge a commission. Two ways that we are looking to grow this pot is working directly with taxi companies, and offering taxi drivers a new phone.
Unlike Ho Chi Minh city, which is dominated by two leading taxi companies, Hanoi is full of many different taxi companies. This puts PingTaxi in a good market position, because it can sign many contracts with different companies which are hoping to grow their customer base.
Despite these potential incentives, PingTaxi still faces a long road ahead. Hau, who is also a University teacher in mobile and location apps, has big dreams for the platform though:
Eventually, we'd like to grow the platform to allow third party apps and allow for other types of solutions that can happen on top of mobile and location data.
See: 10 taxi apps you can use across Asia
(Editing by Terence Lee)