On the morning of July 16, just a night after tropical storm Typhoon Rammasun (also known by the Philippine name Typhoon Glenda) left swathes of the country in devastation with wind speeds of up to 85 miles per hour, a Philippines company launched a relief campaign. It's being done with a twist – using bitcoin.
People can donate in bitcoin by scanning a QR code on the donations microsite. Then the organizing company sends the collected funds in cash to both the Philippine Red Cross and the ABS-CBN Foundation.
The bitcoin fundraising is run by Satoshi Citadel Industries. It's an umbrella company for bitcoin ventures in the Philippines, including selfie posting site Bitstars, remittance service provider Rebit and Bitcoin exchange Coinage.
Luis Buenaventura, the head of product at SCI, says that they had to launch the typhoon relief microsite fast because the power went out in their office building and he only had a few hours of battery left on his laptop. "I think it took about three hours from deciding that we wanted to give it a try and actually having something functioning," Buenaventura explains to Tech in Asia.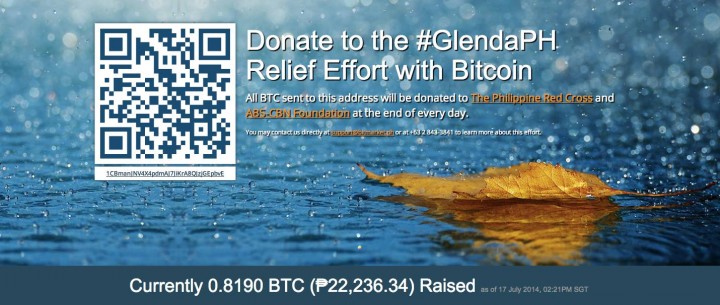 See: How a startup is driving Bitcoin adoption with selfies in the Philippines
Battling a wariness of corruption
Despite the best intentions of SCI with this bitcoin fundraising effort, many people in the Philippines are inherently distrustful of donation campaigns because of a history of corruption in the country. To appease these skeptics, the SCI team has decided to upload receipts from the charities once they forward the cash donations after converting them from bitcoin. "We're at the point where we're just starting to introduce ourselves to the community so it's on us to earn that trust," SCI COO Jardine Gerodias admits.
Other critics – instead of questioning where the money is going – will question SCI's reason for launching the Typhoon Rammasun relief campaign in the first place. They might argue that the campaign is more a marketing ploy than true philanthropy. SCI director of marketing Sabina Lopez-Vergara is well aware of this conundrum and has pushed the team to act accordingly:
We've been very careful about minimizing the branding on the microsite, but people will think what they like. Obviously if we removed our name completely then people would be extremely wary, so it's a bit of a catch-22. In the end, marketing ploy or not, what matters most is that this money will end up helping someone.
The SCI team has realistic expectations of just how many people will donate to the relief campaign. "We can't hope to supplant the more traditional means of donation, but just having another convenient channel is never a bad thing," Lopez-Vergara says.
For the people who choose to support the relief ops through SCI's campaign, bitcoin does offer them several advantages.
"Bitcoin is definitely faster, and the low transaction fees allow people to donate even very small amounts – essentially whatever they can afford," Buenaventura says. "If you look at the donations we've received thus far, they run the gamut, from being very modest – less than 25 pesos [US$0.57] – to being fairly generous with over 5,000 pesos US$115. Bitcoin is very 'equal opportunity' that way."
This is their fourth funding campaign since May 2014, and the team only wants to get better when it comes to creating these microsites, as Gerodias explains:
What we would really like to do is create a framework for quickly launching micro campaigns like this. Every little bit helps, and with natural disasters such as [Rammasun], time is always of the essence. Having some kind of framework in place would allow us to react very quickly whenever the need arises.