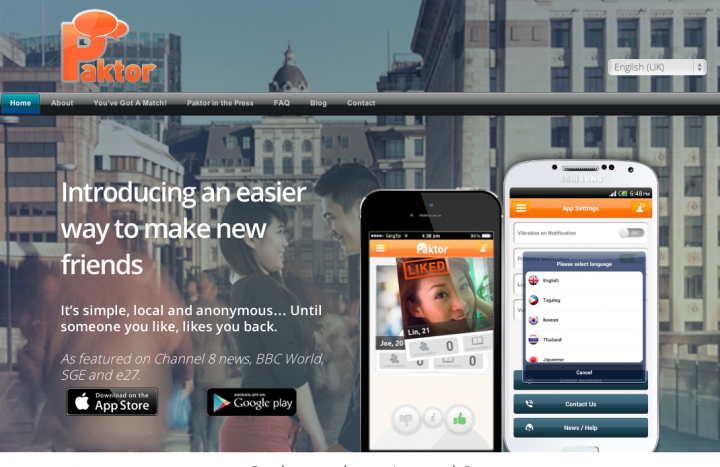 Thailand must be a land of lonely souls. I'm judging this based solely on the fact that I'm about to introduce you to yet another dating app available in the country. Paktor is the third new Thai dating app I'm writing about in the space of just two months (see Noonswoon and Avalable before). I'm not saying it's a bad thing, I'm just saying there must be lots of singles out there.
Originally from Singapore, Paktor launched in Bangkok in August. The app helps users find people nearby who share mutual interests, and allows them to connect to each other while still remaining anonymous.
As I mentioned earlier, there are a lot of players in this dating app game. Christopher D'Cruz, Paktor's co-founder, points out the three main features that he believes will put Paktor above its competitors:
Simple, anonymous, and local are what Paktor is about. Some of the competitors offer the anonymous option, but not many. However, simplicity is the biggest selling point. You download the app, log in, and we match you with someone in less than a minute.
Quick hook-ups
Paktor, which is Hokkien Chinese for "going on a date" runs with the tagline "All it takes is 15 seconds."
One month after its launch in Singapore, 30,000 chat sessions have been created in the app.
Users can look and browse through profiles in Paktor with no pressure, thus making it less serious than some dating services. You look at a profile photo and a one-paragraph description. That's all you get. The app claims it tries to recreate a moment in a bar as in when you find someone you're interested in, you approach the person and take it from there.
Flirting across Asia
Bangkok is the second city outside of Singapore for Paktor. Next it also added Hong Kong, Jakarta, Hanoi, and Ho Chi Minh to its line-up. The company is also looking to expand to Seoul, Taiwan, Tokyo, and Bangalore soon.
The product development part of the app is done in Singapore and the company localizes its marketing strategy to suit each country it is in. Now Paktor is available in eight different languages. It also has at least a few local staff in each city. Now the app sees around 100,000 active users.
Christopher explained the startup's expectations about user numbers:
Paktor will stick with the aforementioned countries until we get one million users and then we consider the next expansion. It's an aggressive prediction but we hope to reach that milestone by the end of the year.
Thai taboos
Prayer Trairatvorakul, Paktor's Bangkok lead, shared that the biggest challenge in Thailand for a dating app is the taboo in Thailand about being desperate. Downloading a flirting app can be seen as very desperate. That's why being anonymous on Paktor could play an important role in attracting more users. She explains:
In Thailand, it's still a taboo to say you're looking for someone. It looks desperate. So our app tries to craft the message around that and remove the taboo. Our users don't want people to find out they are on a dating app, we make that choice available for them.
A big challenge to keep users, make money
Paktor is funded by Singapore investors. Although the investment numbers are unknown, it's enough for the company to expand to countries it wants to to be in, according to Christopher. However, it is interested in talking to investors as strategic partners. It's talking to a few companies right now.
The startup doesn't have a real plan on monetizing yet as it wants to focus on the user experience first. However, in time, it will consider adding ways for the company to make money. Paktor is looking into ads or in-app purchasing. But it will be very selective on how the app will do it and who it will partner with. The team would consider restaurants or bars to begin with, as those places add value to a user's dating experience.
Creating an app is just the first step, but retaining users is definitely one challenging task. Christopher tells us:
The app is simple to use so we believe people will keep coming back to use it. For the future, we're also looking to match people who share the same interest to just socialize. Match badminton partners, for example. Also, people will come back to see new people who are added to the platform everyday. Our users see this as a fun game.
Christopher also believes in simplicity. The company collects data of how people use the app to add features in the future. It might add games in the app so when the app matches you with someone, you can play a game together as a way of bonding. Paktor is also looking at adding stickers and different ways for users to chat. (These two functions are similar to what Avalable is doing on its online dating platform). A photo editing feature is also on the plate for consideration.
To get its name out there, Paktor will have an official launch event in Bangkok on September 18. In addition, it's filming a short commercial in Bangkok right now that will be used throughout the region.
Paktor is available on both iOS and Android.
(Editing by Steven Millward and Anh-Minh Do)