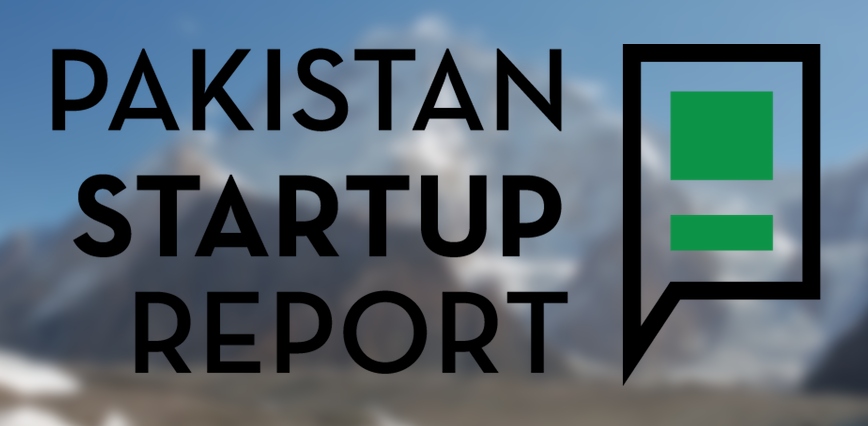 After months of collating crowdsourced input, a group of Pakistani techies have today completed and published the Pakistan Startup Report 2014 and an accompanying Pakistan Startup Wiki.
It's all part of the vast project started by Bowei Gai back in 2013 to produce useful overviews in the form of reports on the tech and startup ecosystems in dozens of nations. Earlier this year it morphed into the World Startup Wiki, which Gai envisages as a sort of Lonely Planet guide for entrepreneurs.
Gai authored the Pakistan Startup Wiki and report (embedded below) in conjunction with Adam Dawood, the founder of Pakistan-based DYL Ventures. Dawood tells Tech in Asia that 10 other local experts contributed along with more than 20 people who gathered data for the wiki. He adds:
In terms of usefulness we feel that the document and wiki will help even reluctant entrepreneurs to start their own business as it provides them guidance on who to approach when starting up. The opportunities table is also a great starting block for someone who wants to be an entrepreneur but didn't know what segment to start from.
Charting opportunities
Before you see the full report, here's the opportunities chart. It shows that the Pakistan tech market, despite the nation's many challenges and problems, remains one that can't be ignored. The grey area displays online sectors that are largely dormant right now. The abundance of green shows that a lot of arenas – like groceries ecommerce, online travel booking, and gaming – are still in their infancy despite a couple of startups operating in each space.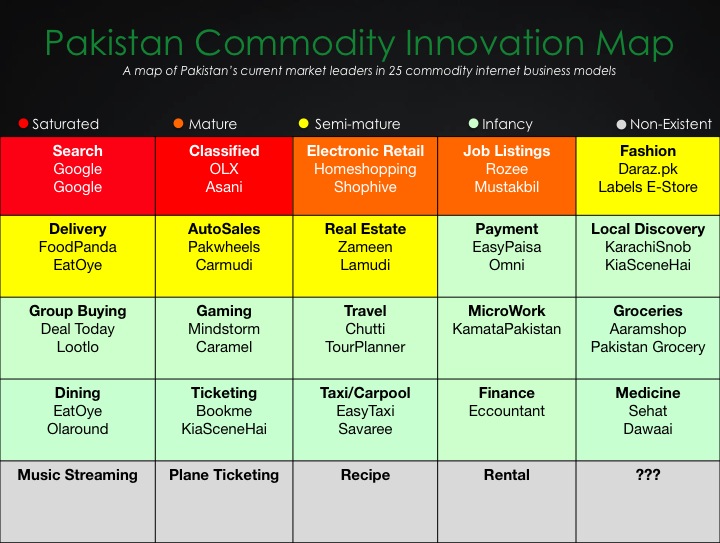 These numbers and facts put the opportunities into context:
Of Pakistan's 180 million people, 68 percent are under 30 (compared to 63 percent in India, 40 percent in the US)

Pakistan expects to have 110 million 3G or 4G subscribers by 2019

Pakistan has the fourth largest middle class population in developing Asia

30 million internet users

6.8 million smartphone users

Rocket Internet, Naspers, Schibsted, and Kima Ventures are rapidly investing in Pakistan
See: Pakistan startup Flashcall ready to mobilize the power of the missed call phenomenon
Resources for entrepreneurs
Both the Pakistan report and the wiki lay out a map of useful resources for budding entrepreneurs in the country. While there are incubators (such as Plan9, Invest2Innovate, P@sha) and notable entrepreneurs that can offer guidance, the wiki notes that there are "not many formal investing vehicles catering to local entrepreneurs." It adds: "Most local investments are made purely by family and friends or through contacts made within the industry. A network of angel investors and a dedicated seed stage fund are being launched that will focus solely on local startups."
The wiki is objective in outlining the nation's issues as well as its competitive advantages. While Pakistan has a large and educated workforce that comprises the third largest English-speaking population in the world, the nation is still beset by terrorist-related security issues and instability that creates a serious brain drain.
The Pakistan Startup Wiki is here. Below is the full report:
See: After global success with clever photo app, Pakistan startup Groopic gets funding