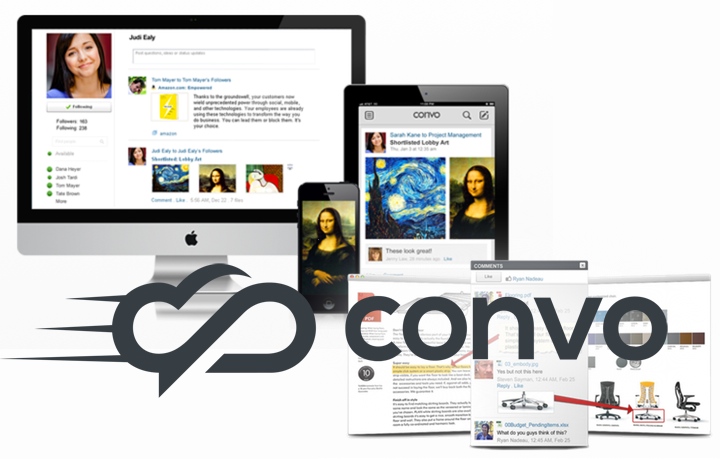 Pakistan-made Convo is an online business collaboration tool that's already used by over 6,000 companies around the world. The startup has revealed a series A round of funding worth $5 million, with the money coming from US-based Morgenthaler Ventures.
This comes six years after its seed funding from Adobe (Update: corrected earlier mistake that this was series B funding. It's not), when the main product and company was called Scrybe and took the form of a scheduling app for enterprises.
But things have changed in that time, explains co-founder and marketing director Shehryar Hydri. Now the company sticks to the Convo name and has grown to 20 staffers in Pakistan and five in the US. He adds:
The funding is mostly for growing the team in both offices. The dev team will double to about 40-plus, and the US team will grow to over 10, mostly on the sales, marketing, and biz dev side.
The new, virtual office
Convo is up against rival collaboration tools and enterprise social networks such as Yammer, SalesForce Chatter, and Jive.
Though Convo can be described in shorthand as "virtual office" software, in essence it's actually a communication platform designed to facilitate efficient ongoing communication between teammates. Though users can customize its functionality, the core of the program is a public ongoing feed. Users can start threads on the feed, and fellow teammates can then comment on these threads, moving each one to the top of the feed with each successive comment. There's also private and group messaging options.
Shehryar explains the metamorphosis to its current form:
Scrybe had originally made an online calendar in Flash and attracted Adobe as an investor, along with LMKR from the local Pakistani industry. We were the first company in the world to offer offline access from within the browser, without installing any add ons or desktop clients. We did this before Google Gears or any other company.

We evolved into [Convo] as we wanted to reinvent the way people work online, both in terms of remote teams as well as with teams in the same location. Convo was designed to define the next paradigm of work that we are shifting towards- i.e. the post-email era.
To that end, Convo claims to be much more efficient than emails when working with teammates in a virtual office, requiring 60 percent fewer words, resulting in 68 percent time saved, and 80 percent less switching between apps. It's also available in mobile form for iPhone and Android. Convo is used by The Next Web, Jones Lang LaSalle, and a wide variety of enterprises. Our newest recruit, Josh, used it when he was at The Next Web, and rates the service highly.
Check out CEO Faizan Buzdar giving Robert Scoble a live demo of Convo in the context of how to choose among rival collaboration platforms. We recommend you jump to the two-minute mark for the demo:
(Editing by Josh Horwitz)