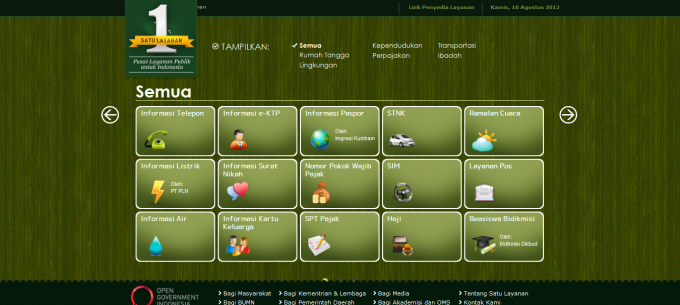 Recently we wrote about Open Government Indonesia, a movement that aims to promote better transparency, public participation, and innovation in government agencies. At that time we had a sneak peek at the Satu Layanan (or "One Service") portal. Yesterday, they finally soft launched it and I had a chance to attend the launch event.
Held at Bina Nusantara International University in Jakarta, the event was opened by an explanation about Open Government Indonesia from Tara Hidayat, deputy of the President's Delivery Unit for Development Monitoring and Oversight. See our previous post for more information on Open Government Indonesia.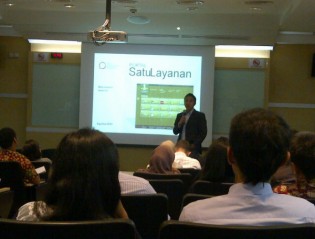 Next on stage, Prayoga Wiradisuria, the founder of Satu Layanan, took the opportunity to explain about the web app. Satu Layanan will provide its visitors with information about government services. In his presentation, Prayoga stated:
[Satu Layanan is meant to] answer the public's needs of a reliable main reference for people to search for information about government services for their daily needs.
(Note: English translation is mine, and not an official translation)
For this beta version, Satu Layanan showcases information about public service from 50 government agencies. Prayoga added that Satu Layanan aims to give an intuitive and to-the-point user interface that even an elementary student can use. Although, currently, he acknowledges that 70 percent of information in the website is static information, Prayoga stressed that this is only an initial step. He said, "that is fine, that is good enough for now."
Prayoga reminded audience that the portal is not meant to replace each agency's online service. It simply serves as a pointer to the real service that remains in each respective agency. In the future, Satu Layanan hopes to engage ordinary citizens to contribute as well. On this issue, I asked whether Satu Layanan will open any kind of API. Prayoga answered that it is possible to do so, but for the time being they will only open access for contributors in a CMS-style account.
It was also revealed that Open Government Indonesia will develop two more web apps, namely Satu Pemerintah (One Government) and Satu Peta (One Map). Although we can play guessing games about these two portals based on their name, we don't really know much more beyond this for now.