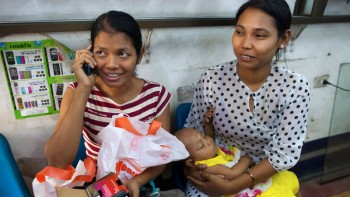 At the beginning of this summer, it was announced that two companies, including the Qatar-owned telecom company Ooredoo, had been granted the rights to build mobile networks in Myanmar. The news was a disappointment for Asian telecom bidders Singtel and Axiata, which were also in the running to build Myanmar's network. But if the people of Myanmar had any doubts about the choice of Ooredoo they probably don't anymore: the Qatari company has unveiled a franchise program it hopes will bring 30,000 women into Myanmar's work force by 2016.
The program, which is being undertaken in cooperation with the Cherie Blair Foundation for Women as part of the Clinton Global Initiative, will see Ooredoo develop a franchise model and equip women with the tools, training, and access they need to start selling airtime on Ooredoo's network to their local communities. Each woman will get a mobile phone, some promotional and instructional materials, and a little bit of hands-on training in entrepreneurship to help them get their businesses off the ground.
On its face, this program would appear to be a win for everyone. Ooredoo gets more customers, 30,000 women get jobs and free equipment and training, and Myanmar gets more mobile network access. As with any program like this, of course, the proof is in the execution; there are a lot of things that can go wrong even with a good idea and good intentions. But it's nice to see Ooredoo working with NGOs to boost Myanmar's economy and offer jobs and training to women who otherwise might not have access to them.