The final quarter of 2011 proved to be another chapter in Nokia's (HEL:NOK1V; NYSE:NOK) horror story in China with the Finnish phone-maker reporting a drop of 40 percent in net sales compared to the same period in 2010. According to its newly-released unaudited results, the volume of devices sold in Greater China dropped 33 percent from Q4 2010 to the same quarter of 2011.
It's nothing new for Nokia, whose sales have been trending downwards in China for quite some time. The quarter-on-quarter figures are not so dramatic: sales down 19 percent; volume down 8.
Nokia has been hit hard by the lack of a convincing smartphone line-up at a time when China's newly-emerging middle-classes have been snapping up iPhones and numerous Android devices. Worldwide, there's an operating loss to the tune of EUR2.5 billion (US$3.29 billion) year-on-year, with 31 percent fewer phones sold.
But Nokia's business in the Greater China area – which is the mainland, plus Hong Kong and Macau – is still worth EUR1.008 billion ($1.32 billion) in net sales, shipping a claimed 14.7 million units in the final quarter of last year. Here are the two key tables, with the China region highlighted in orange: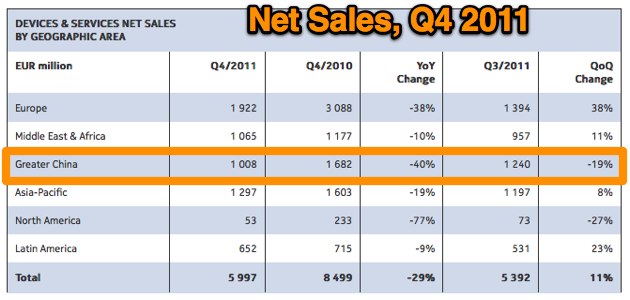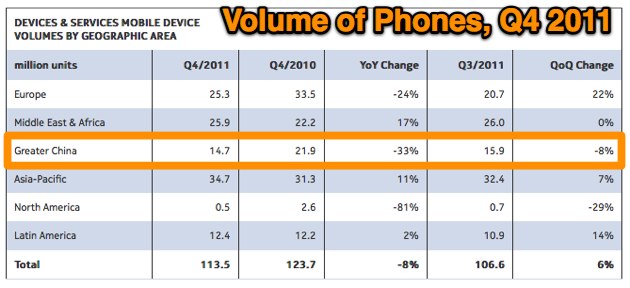 The stats from Nokia come with the hopeful promise of Lumia phones for China "in the first half of 2012." That is, I believe, the first official word from Nokia on this, after Microsoft (NASDAQ:MSFT) earlier dropped a big hint that its Windows Phone 7 (WP7) platform, which powers the Lumia phones, will launch in China pretty soon.