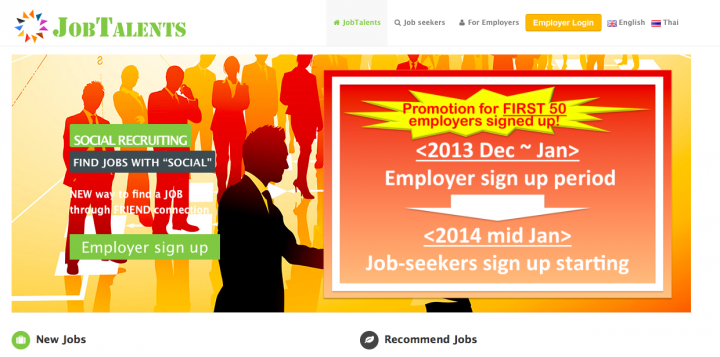 Thailand's unemployment rate is at 0.67 percent, which is the fourth-lowest in the world. That number might even be lower next year, considering Linkedin has recently launched a Thai version and JobTalents, a Thailand-based startup that is trying to disrupt the recruitment industry.
JobTalents is an online headhunter. The startup provides a recruiting platform that aims to help companies struggling to hire talented employees. The company's selling point is the post-for-free feature for job listings. JobTalents has a pay-upon-employment model which means the company doesn't have to pay unless it finds a talented employee. That's when JobTalents will charge the employer 5,000 Baht ($150) per person recruited.
This is quite a new business model for online headhunting in the country. Normally, most recruiters would charge a percentage of the salary or most online websites would do it the old-fashioned way – pay for advertising to have the posts show up on top.
JobTalents also has an online skill test to examine candidates, which looks not only at resume but also specific skills needed for certain jobs. For example, if a candidate applies to be a programmer, he or she has to go through a coding test, while if someone wants to be an English teacher, he or she might have to submit a video of the person teaching English.
The company explained the reasons for starting the business:
We found employers are not satisfied with the current job services. These features were chosen through interviews with employers in the region, trying to save both cost and time to find the best talent effectively.
Backing by startup veterans
Founded in 2013, TalentEx is the company behind JobTalents. It was founded by Yojiro Koshi, who previously worked in a HR startup with Kiyo Kobayashi, his advisor and founder of Nobot, a tech startup specializing in providing an ad optimization and exchange platform. Koshi has also worked in developing business in Asia for Nobot, which gives him knowledge of the market.
In addition, JobTalents is also backed with angel investment from the directors of Thai startup Ookbee. Moo Nattavudh, CEO of Ookbee explained the investment:
As a startup founder, I use various job posting services in Thailand. When Koshi discussed with me his free-to-post service with an interesting business model, I was thinking this is a service every startup founder and HR manager will love. My co-founders, Charn and Joe, and myself also know Koshi and believe he's the right person to run this.
Jbtalents.com (without an "o" for "job") will open fully in 2014. Companies can now register for the service, and they will be given a promotional discount when it launches.
(Editing by Terence Lee)