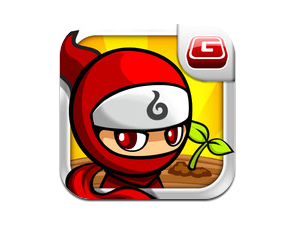 Ninja Farm is CyberAgent's (TYO:4751) latest Gamewave platform iPhone game, and it is pretty much the kind of game it sounds like. You farm ninjas, and then set off on missions against enemy armies. Each time you go into battle, you can take ten of your best ninjas with you, so it's up to you to plow your fields and grow the best possible types of ninjas you can afford.
While the game uses a gold currency with which you can buy new ninjas to plant, you can also use real cash to buy in-game items and fancier, more powerful ninjas. Thankfully the game developers have marked off such paid items with a blue 'buy' icon as opposed to the regular 'red' buy icon. Gamers can get buy without buying real items, but you're going to need some patience. Sometimes the game imposes a wait period before your next mission, and then you can use an 'Instant Mission' skip. If you can't spend money, Ninja Farm will make you spend time instead.
The clever device used here is that once you plant the advanced ninjas (i.e. the ones which take the most time to grow) you kinda want to wait around and take them for a spin. So in this way, Ninja Farm is a tricky game to put down. I didn't take advantage of the social features of Ninja Farm, but according to Gamewave its platform lets you:
play games against friends (who can connect via Google, Facebook, Twitter or Mixi) and offers rewards, rankings, a virtual currency called Gamewave coins, etc.
Other Gamewave titles to date include Coin Pusher Mafia, Animal Bakery, and Zombie Restaurant.
Is Ninja Farm a cheap 'ninjafied' farming game? Perhaps. Is it awful? I don't think so. The varying abilities of the ninjas kept me interested for a couple of hours. But the imposed waiting does get to you after you've used up all your 'Instant Mission' items. In any case, I'll let you judge for yourself. Check it out on the iTunes store.