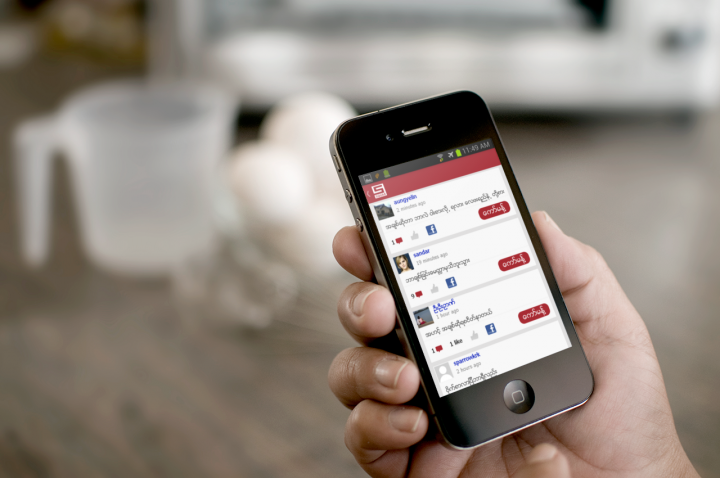 If you've been watching the startup space in Myanmar, you've probably heard of MySQUAR. It's a social network that recently pivoted to the mobile app platform space. Last time we checked, MySQUAR had over 100,000 users, and has been growing at a rate of about 50 percent month-to-month. This is particularly significant for Myanmar, where the internet penetration is around two percent.
While that doesn't make it Myanmar's biggest and baddest homegrown social app just yet, we'd been keenly following the startup's progress – partially due to its Vietnamese-Canadian founder Rita Nguyen, who has been the main driver and evangelist for internet startups in Myanmar.
But it looks like there's been a shake-up in MySQUAR's leadership, and Nguyen's now on the outs. Today the company issued a press release announcing Linda Lim as its new CEO, who "combines local knowledge with international experience from prior roles as a Visa executive leading the premium product division in San Francisco and her own consumer product company, mybotto. Linda is bullish on Myanmar: "Everything is changing so fast so it's hard to put exact numbers to the rollout but Myanmar has announced plans to boost telecom coverage to 80 percent by 2016."
In her statement, Linda focuses mainly on MySQUAR's potential:
I'm excited to be working with the team at MySQUAR at the forefront of the technology movement in Myanmar. Our business is maturing – and like we always intended – our structure and leadership is changing to meet the needs of our increasingly local focus. As we've settled into the technology landscape, Myanmar's challenges have become our own – and like the country itself – we have evolved to meet these challenges by reaching out to the country's rich resources of local knowledge and local talent. Everyday our operations become better informed, more efficient, more innovative, and most importantly, more Myanmar.
Nguyen is not quoted in this press release at all, and is mentioned only to note that she has moved on to pursue interests outside of MySQUAR.
On her personal blog, however, Nguyen goes into great detail about how she believes she was unfairly ousted from MySQUAR. In a post titled "When Investors Turn Into Bullies," she writes:
On May 9th I came back to HCMC to find out that the MySQUAR board of directors had removed me as the CEO with no notice and no reason given. During the course of that one hour meeting they had cut off my email and removed me from all the internal systems and have since changed the locks on the doors. Even worse, they did the same to my co-founder but didn't even give her the courtesy of letting her know. Instead, she found out when one of the admins at the office called her to ask her about what was going on.
We recommend jumping over and reading the whole post so you can form your own opinion.
Why the bad blood?
In the post, Nguyen accuses her key investors of staging a hostile takeover. She claims the events unfolded without warning, one day after she spoke publicly at Startup Asia Singapore about Myanmar's internet population. The new acting powers effectively cut off Nguyen's email, locked her out of the MySQUAR database, cut her health insurance, kicked her out of her apartment in Myanmar, and refused to pay for her expenses.
Nguyen had been founder and CEO of MySQUAR since May 2013. The startup, which has most of its engineering team in Vietnam and community managers in Myanmar, was raising its series A at pre-money valuation anywhere between US$8 to 13 million. It already received a $580,000 seed investment last year. Since its launch, the startup has made no revenue, but intended to monetize by last May. It seems likely that the alleged investor takeover and subsequent removal of Nguyen was connected to a feeling that the startup was not performing well financially. In her personal blog, Nguyen states that the startup ran out of money in May. She also claims that its main investors, Rising Dragon and Bell Pottinger, cut out its angel investors, which consisted of Nguyen's friends and family.
We have contacted the key investors that she lists in her post as well as Linda Lim, the new acting CEO for comment. Linda gave no comment as to the details surrounding Nguyen's departure. When we asked if anybody had left with Nguyen, contrary to the blog post, Linda stated that: "No one has left with Rita. And in fact, we continue to grow with new hires in both Vietnam and in Myanmar offices."
We'll be watching this closely as further developments arise and will keep you updated. Although it is not clear who instigated this nor who is in the right, it's clear that it's a lesson in choosing the right people to work with, be they investors or founders.