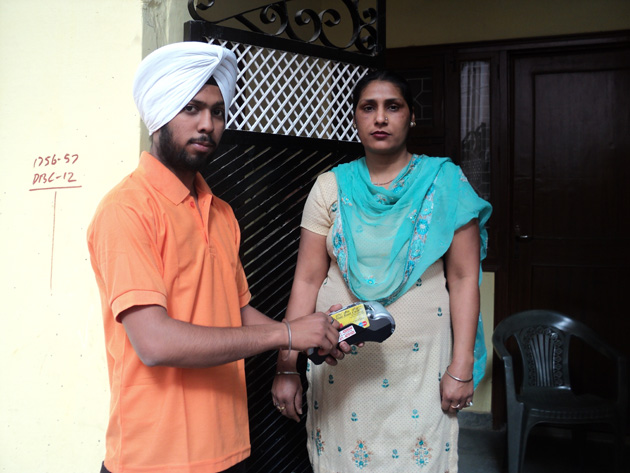 Cash on delivery is no longer cool. Perhaps inspired by Square, so-called 'card on delivery,' or in other words, paying using a credit card when the couriers deliver to your doorstep, is a very popular thing for e-commerce companies across Asia. India-based e-commerce startup, MyGrahak.com, which claims to be India's largest online food store, has just announced its card on delivery service today.
The company explained that it needed to switch to a more seamless payment solution as the number and amount of cash transactions increases. The device is GSM-enabled and will be able to send cash payment and delivery data simultaneously. It is important to note that the device isn't at all a "Square-ish" device. It uses the point-of-sale device (picture above) which we usually see in restaurants and stores. Square, on the other hand, is basically an add-on device to the iPhone's audio port and is managed by Square's mobile app.
Ambuj Jhunjhunwala, the founder and CEO, MyGrahak elaborated on this move:
Cash on delivery revolutionized e-commerce in India. With inherent disadvantages for the seller, the service is seen as a 'necessary evil'. It was needed to earn trust from customers. Now it is time for the sector to handhold customers to better payment options.
Convenience is the common reason why companies are opting for a card on delivery method. Earlier today, we also wrote about Alipay, a popular e-payment gateway in China. It has also implemented a similar solution in the country. Elsewhere in Singapore, there is Swiff, which is perhaps closer to Square's mobile payment solution. Swiff also works as an add-on to a smartphone via its audio port and mobile app. When we questioned the maker of Swiff, SCCP, it denied that it had copied the Square idea, as it claimed that the R&D began more than a year ago. But a representative did admit that Square was the first to bring this mobile payment solution to the market.
Card on delivery seems to be gaining steam in Asia. And that's a good sign. I would very much welcome the ability to pay for pizza to the delivery man using my card.