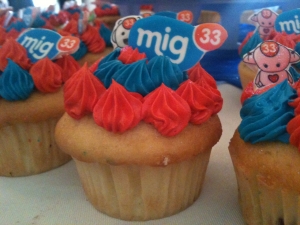 Mobile social network mig33 is betting big on emerging markets still using feature and/or Android-based phones. Previously, we learned that it has partnered with 12 Asian handset brands in Indonesia and India.
Today, mig33 announced partnerships with three more handset makers in India — G'Five, Intex, and Zen. According to the statement, G'Five is the third largest handset maker in India, falling just behind Nokia and Samsung. Though big in India, G'Five is actually a China-based company.
Mig33 is perhaps the largest mobile social network focusing on feature phones. It is becoming a "must have" app for feature phone makers looking to add social networking and gaming fun on their phones. It makes the phone more compelling to have the mig33 app on it. Feature phones that missed out might not be as attractive to users. But that is assuming that mig33 has enough active users to create such a demand. The mig33 effect will just get greater as more phones (with mig33 preloaded) are sold to more users.
Mig33 now has 55 million registered users. It also claims to have 300,000 daily active users on its new miniblog service, a service that works much like Sina Weibo. Besides social networking functions, mig33 also hosts games built by third party developers. It saw over 300 billion messages and over 185 million virtual gifts sent globally in 2011.