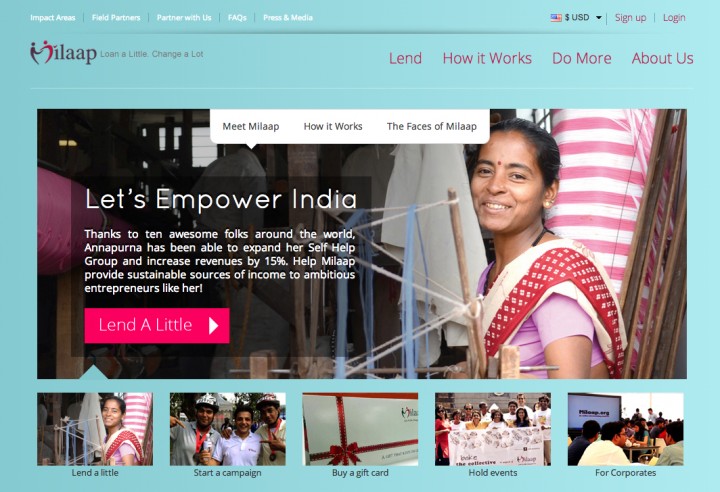 Microlending and fundraising platform Milaap has secured a $1.1 million funding round led by Jungle Ventures. With the new money in pocket, Milaap will further develop its platform, do more marketing, and enable more payment options. It wants to reach out to more people for its civic-minded cause.
So what does Milaap do exactly? It works with various grass-roots organizations in India, which have been carefully vetted and are credible, to highlight the specific individual lending needs in these communities. The needs can range from a family needing basic clean water in Tamil Nadu to building smart classrooms with computers and projectors in Kasturba Nagar.
Such needs are then listed on the online fundraising platform, allowing people like you and I – or companies and special-interest groups – to help the under-priviledged by providing loans and helping spread their stories. They will receive 100 percent of the amount you have loaned.
Lenders are also able to track the progress of the loan from the start up to the moment that the lender receives the money back – and you get to see the impact made in that community. Once the amount has been credited back to your account, you have the option to withdraw it from the platform or lend it to another borrower.
We asked Milaap CEO and co-founder Sourabh Sharma if the site might go global. Sourabh responded:
In terms of raising money, it's already global in the sense that anyone around the world can fund the projects listed online. In terms of deploying the funds, India is just a start. We plan to expand to at least one more country in Southeast Asia in the next 12 months. It depends a lot of finding the right on-ground organizations with whom we can work.
Lending to the 'unbanked'
With more than 480 million Indians living in mostly rural and semi-urban areas not having access to the formal banking system, and fewer than five percent without access to loans for survival needs, Milaap is "tapping on the long tail of the internet and disrupting how people – either individually or through their activated social networks – can raise and provide capital to the millions who are unbanked," says Sourabh.
At present, Milaap has already impacted 25,000 lives, raising over $800,000 for the various causes, such as providing seed capital for small businesses, cleaner water and sanitation efforts, and better education across ten states in India.
Alongside Jungle Ventures, the other backers today are Toivo Annus, Lionrock Capital, Jayesh Parekh, and Unitus Seed Fund.
Milaap previously received seed investment of $250,000 from Unitus Seed Fund, First Light Ventures, Vijay Shekhar Sharma, and Rajiv Madhok.
(Editing by Steven Millward)