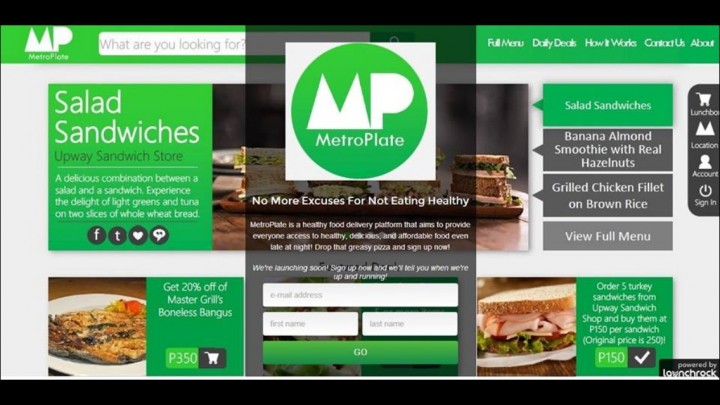 Unhealthy food intake is one of the common problems in the Philippines. That's why in 2012, three out of five deaths were linked to "lifestyle-related ailments", a number of which are directly tied to poor diets. In order to help Filipinos eat properly, Philippine startup MetroPlate has entered the scene with a healthy solution.
MetroPlate is a food delivery platform that focuses on healthy meals. Users can access the website and choose from a selection of healthy dishes cooked by restaurants that specialize in nutritious meals, which will then be delivered to the hungry users' doorstep.
It's an idea that was born out of MetroPlate founder Jerome Ibañez' technopreneurship classes at De La Salle University Manila, when they were asked to come up with an idea for a startup.
While it originated as a simple food pre-ordering system, he, together with his team Albert Go and Ian Rojas, "pivoted to a healthy food delivery platform during Startup Weekend Manila." The startup ranked second in the Startup Weekend Manila held in 2013. (UPDATE 1: Included MetroPlate team members and fixed erratum on Startup Weekend winning place.)
Ibañez explains that since medical expenses are rising each year, many are already taking the initiative to live a healthier lifestyle. This is "because no one can afford to be sick at this day and age." He adds:
Looking for healthy food options late at night is a challenge since there are barely any establishments open at that time.
Healthy roll-out
For its soft launch, which is targeted before the end of this month, MetroPlate has established a partnership with healthy food caterer Rice Labs as its main supplier for food.
It will start by serving a limited number of meals supplied by Rice Labs, and the team will continue to add more options as it progresses. MetroPlate is currently in talks with The Organic Farm and Earth Kitchen, among other partner restaurants. (Update: included partner restaurants the startup is in talks with). He adds:
For the initial launch, the website will be just your typical food ordering website but we plan to add more features such as order tracking and the like. All the deliveries will be on us.
MetroPlate will outsource delivery "through a trusted contact." But it aims to have its own fleet later on. For a start, the team will focus on getting its customers' orders quickly, first. While they do that, the intends to gain revenue from a commission on every meal sold through their platform.
The focus of the startup this year is to "get the platform up and running and get as many partner merchants as possible." It will start with Makati City and its neighboring vicinities. But it also plans to make its service available in more areas.
(Editing by Josh Horwitz)