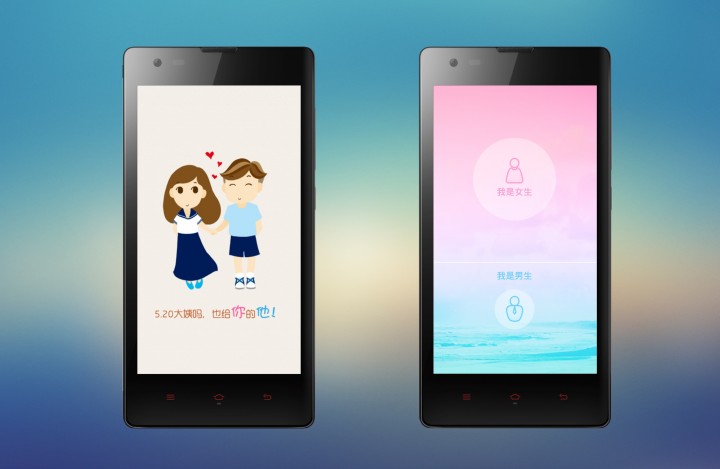 Menstruation-tracking apps might not seem like like a goldmine waiting to be unearthed, but in China, investors are hedging their bets on them. Yesterday 36kr reported that Dayima, period calendar app and women's social network, just closed a US$30 million series C round, backed by Ceyuan Ventures, Sequoia Capital China, and Bertelsmann Asia Investments. Prior to this round the company raised rounds worth US$10 million and US$5 million from its three current backers.
Those are hefty sums  for a souped up calendar app. For comparison's sake, rival app Meiyou (known in English as Meet You) netted US$15 million in funding a few months ago. Glow, its highest-profile Silicon Valley analogue, raked in US$6 million in funding in August 2013, but hasn't reported new rounds since then.
What might make Dayima worthy of a US$30 million round? For one thing, Dayima is slightly more feature rich than its competitor Meiyou. Not only does Dayima feature user forums where women discuss all sorts of womanly things (and plenty of non-womanly things too), it also features tracking for other aspects of one's personal health, like weight, fitness, sleep, mood. Furthermore, men can use Dayima too. As soon as one downloads the app, users are asked to specify their gender. If you've got a Y-chromosome, your female partner will scan a QR code from your app, and you'll be directed to a simplified version of the app with your SO's calendar and a couple's chatroom. Our instincts tell us that there aren't hordes of men with Dayima on their phones, but it's an interesting twist nonetheless.
36kr reports that the Dayima team will use the funding to dig deeper into user data, in an effort to boost its marketing and bolster its brand. In addition, 36kr believes the company will likely venture into smart hardware or the broader health product vertical. It's already integrated into Samsung's Gear 2 smartwatch, as well as PICOOC's smart scale. If the Dayima brand moves beyond smartphones, that US$30 million figure might balloon even higher.
Dayima claims to have 45 million registered users to date, with its daily active user-base at 3.2 million. As of last January, domestic competitor Meiyou had accumulated 1.2 daily active users.