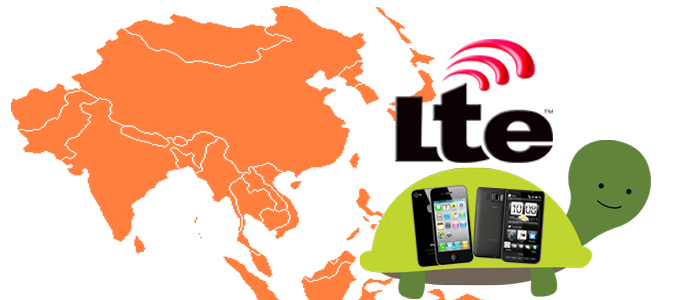 As of last year, 63 percent of telcos across all Asian countries had rolled out or were developing 4G mobile data services. This proves that mobile, internet, and more specifically, LTE, are the new most important things in Asia's telco space. But while LTE adoption in Asia is doing well in developed countries such Japan and Korea, what's happening in emerging markets?
With a mere 34.6 million LTE subscribers in Asia-Pacific of the total 3.45 billion mobile subscribers in the region at the beginning of this year, 4G is far from commonplace.
What's lacking?
We talked to Leslie Shannon, strategic marketing manager at LTE solutions provider Nokia Solutions and Networks (NSN), and she gave us insights with possible reasons for 4G's slow emergence in the region. She says that, first, consumer education is key. Not too many know or care about LTE. For most of these mobile users, it doesn't matter whether they are using LTE or not, and what mobile users care about is their ability to access the internet through their mobile phones. Mobile users care mainly that their telco provides them with coverage; consistency and speed follow on as requirements. For some people's purposes, 3G – or even 2G – will suffice. Maybe then, it would be notable for mobile users to know what difference LTE would make in their mobile experience.
Game changers for LTE adoption
One thing to take note of is that there is immense video consumption in Asia. In fact, Asian consumers are increasingly using their mobile phones to access streaming videos. This can be a factor in the increased adoption of LTE in the region. And it totally makes sense, because as users start to experience LTE, it will add to the user experience especially in terms of video since 4G data can go multiple times faster than 3G's top speed of 7.2Mbps.
However, those who know about LTE and want to experience it, cannot easily do so. LTE-capable mobile devices are generally at high price points. This is becoming a huge barrier, especially for Asian emerging markets where the likes of Apple and Samsung are experiencing a decline in sales as cheap phones convert feature phone users to the smartphone era. Leslie says massive changes will happen when LTE-capable devices become more accessible.
NSN's Philippines country manager, Markku Niemen, adds:
If you look at 3G, it took off when the devices' price points lowered down. I think this will be no different for LTE.
Cheaper alternative
But while Asian consumers are still awaiting LTE smartphones to become cheaper, it doesn't mean that they cannot take advantage of its speed. The NSN folks told us that what many consumers might not know is that MiFi devices can be a way for consumers to use LTE without needing to purchase an LTE-capable smartphone.
MiFi – which turns 4G into a personal wi-fi network – only costs around $50 to $90, and some telcos bundle it with a postpaid 4G plan. Leslie says that by using a MiFi device with an LTE SIM, users need not own an LTE-enabled smartphone. So this lowers the cost of entry to the 4G club.
We cannot emphasize enough how mobile is truly the biggest trend in tech today. Mobile is being hugely adopted in Asia, and this is happening because people want to access the internet through their phones. Some emerging markets are largely skipping the PC era and going straight to mobile.
Despite the barriers, by the end of the year, it is expected that LTE subscribers in Asia will rise to 72.1 million. That could be boosted further once China Mobile confirms a date for its nationwide rollout, which is due sometime later this year. And if LTE-enabled phones come at lower price points soon, it could accelerate LTE adoption even more in Asia.
(Editing by: Steven Millward and Anh-Minh Do)