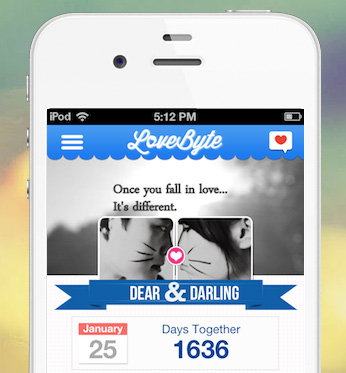 Muacks! Kisses! Hugs! Now you can do all these in an app. I mean, you can do it via SMS, email, or any chat apps out there. But LoveByte gives you that extra loving sensation for digital romance messaging. Sure, there are quite a few similar alternatives like Between and Pair. But sadly, no one seems to be giving Singapore-based LoveByte any love. So here we are, blogging about it because I thought the app's design is quite awesome for a start. It also has some interesting features that make digital loving all the more fun.
First I must admit I haven't really used LoveByte with my girlfriend. But I did look at what are some features that I thought are interesting. One that caught my eye is the scratch cards which I thought are pretty cool. You can send your significant other a surprise, say a couple's massage over the weekend, and he/she has to "scratch" the card to see the message. That's kinda fun and certainly something that girls would love, I think. The rest of the features are pretty similar to the rest. Though I must emphasize that the design is pretty well done.
Founder Steve Sng says that LoveByte was launched just a week ago and so far has attracted more than 1,000 users. According to Steve, his app is listed in the Singapore App Store's top free lifestyle apps. "Our users are growing so fast that we had to scramble to upgrade our server to cope with the traffic," he told us.
That's kinda cool if true. He also shared more on this thoughts when asked about his competitors:
Because of the sudden surge of competition, LoveByte was forced to evolve and do more than just to provide a private space for couples. While Pair is focused on improving communication between long-distance relationship couples, and Between is focused on helping couples archive their relationship's moments, LoveByte is focused on helping couples create quality interaction offline. Thus, LoveByte had a unique feature called "scratch card" that allows couples to send date suggestions in a fun way.
Like most apps, monetization is always a problem and Steven understands the problem. He didn't state what kind of monetization methods he would use. But I thought selling virtual goods would make sense, you know, like a virtual rose or LV bag. That would be fun and maybe profitable too. Chinese flirting apps like Youjia do this already.
Couples can give LoveByte a try here (iTunes link). Happy sexting messaging.