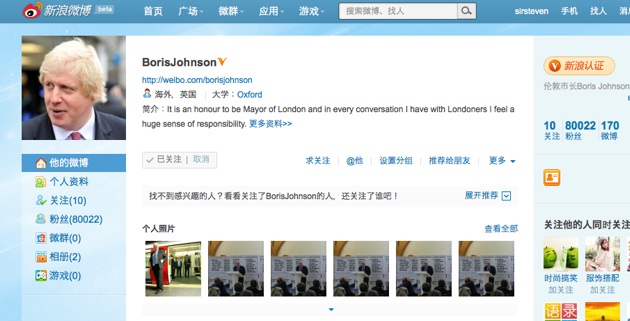 Surely the key element of social media marketing is to keep it relevant. And so London Mayor, Boris Johnson, seems to be failing at reaching out to Chinese folks on his new Sina Weibo account (see it here), as it consists almost entirely of inscrutable nonsense that has been copied-and-pasted from his official Twitter page.
Last night, Mr Johnson's Weibo – now at 80,000 followers and rising rapidly – tweeted out this irrelevant message:
isabellagornall you can find them at http://t.cn/zOOzf18 for just £1.50!
The first name is a reference to a Twitter user that doesn't even exist on Weibo. Most of his Weibo missives – presumably done by a staffer, not Boris himself – are similar mis-fires straight from his @backboris2012 Twitter profile. Also, Weibo uses a double hash for its hashtags, so all the Twitter-oriented ones – such as #backboris for his mayoral campaign – don't work on the popular Sina social network. The vote for London mayor takes place on May 3rd, and it will therefore decide which man – Mr. Johnson, former mayor Ken Livingstone, or challenger Brian Paddick – represents the city during the Olympics.
Inevitably, as spotted by The Daily Dot, some Chinese netizens are having a giggle at the Mayor's expense, joking that he's inexplicably campaigning to Chinese voters. One other commenter said:
Hey old man, can you speak a little Chinese? We're Chinese people, on Chinese soil.
While another politely requested:
Since you're using Weibo, please write Chinese, mister Mayor.
But most of his followers on Weibo are just happy to see the Mayor on the service, where he seems to be reaching out to the previous hosts of the Olympics in the year that London prepares to host it in just 99 days time.
And, credit where it's due, Mr Johnson has actually posted two Chinese messages (out of 170 posts so far). The most recent was early this morning, in which Boris wrote (or, rather, a more Weibo-savvy staffer) a note about his public transport plans (pictured above), along with a photo of him stepping off a London "tube" train. In translation, it reads:
Transport investment is the most important part of the nine-point plan I've developed for the Greater London region. By 2015 I will have reduced tube delays by 30 percent, and the suburbs and subway system will be connected by the new Central London Railway that's under construction around the City of London area; plus the bike rental program will be expanded.
Thus far it has just over 120 retweets and nearly 100 comments. I get the feeling, however, that his followers would much prefer some insights into preparations for the Games across the city (and, indeed, across the UK), rather than bland policy and politicking.
Boris Johnson created a very bad impression among Chinese media and bloggers when he was involved in the handover at the end of the Beijing 2008 Olympics. At the time, the somewhat eccentric Mayor was slammed as being "rude, arrogant and disrespectful" due to his floppy hair, unbuttoned jacket, hand-in-pocket, and generally relaxed demeanor at the event.
[Source: DailyDot; via BeijingCream]