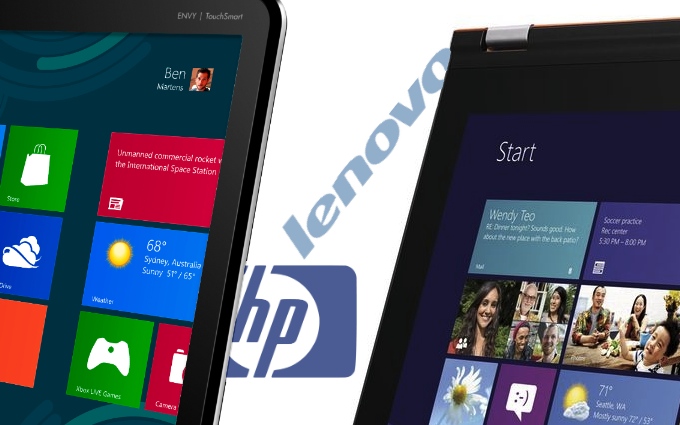 China's Lenovo (HKG:0992) has passed HP (NYSE:HPQ) to become the world's leading PC maker in 2012 Q3, according to research firm Gartner. HP has held top spot in the industry since 2006, but Lenovo has been edging closer in recent years – noticeably and dramatically boosting its market share since early 2011.
But another research firm, IDC, begs to differ and reckons that HP holds the lead for now by the slim margin of just 0.2 percent – 15.7 percent for HP, 15.5 percent to Lenovo.
Lenovo, however, takes the throne of a shrinking kingdom. Global PC shipments fell 8.3 percent last quarter from the same point a year ago. Here's Gartner's top five: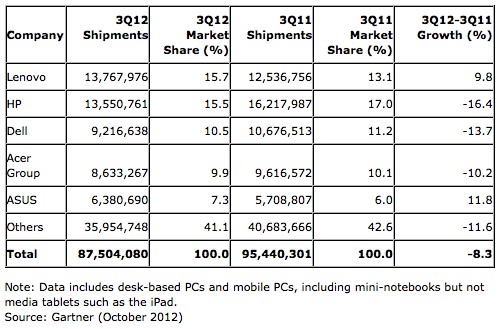 We usually follow IDC's data on this blog, so this is the updated scene from their numbers:
[Download image version of chart]
Speaking of Asia-Pacific, IDC said:
The region continued to contract on a year-on-year basis, though growing sequentially from 2Q12. China was mostly on target but the rest of the region came in below expectations as ongoing economic sluggishness and competing device distractions weighed on PC spending this quarter.
While it's a major milestone for Lenovo, which bought IBM's PC business back in 2004, the larger battle for the firm will be to transition to the next wave of computing with its smartphones, tablets, and hybrid touchscreen laptops – such as the ThinkPad Edge Twist Windows 8 device that was debuted yesterday. Lenovo also has Android-powered phones and tablets, and is said to be China's second-largest mobile brand.
HP is in more of a pickle, having killed off its own mobile OS and platform, WebOS, last year – and so has no mobile gadgets to offer. HP's new-ish CEO Meg Whitman warned analysts recently that there'll be no real recovery or expansion in its business until 2014. The launch of Windows 8 might give HP a boost in the final quarter – unless consumers decide they prefer Lenovo's offerings. Note that HP has said today that it prefers IDC's numbers because they include workstation sales.
Dell (NASDAQ:DELL) remains in third place, says Gartner, though its share of PC shipments dropped to 10.5 percent from 11.2 percent a year earlier.