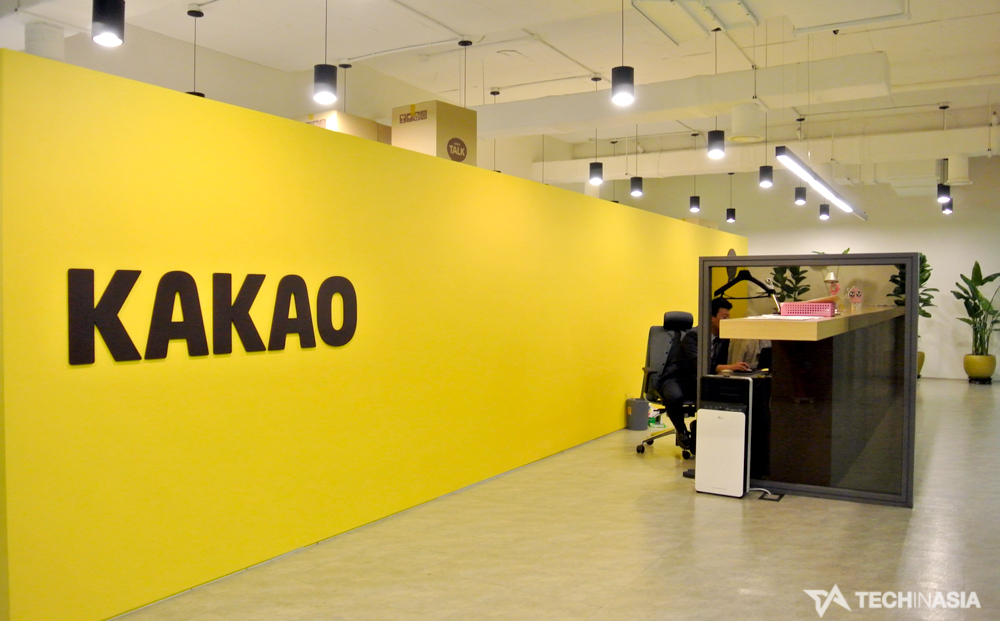 With over 90 million users today, KakaoTalk's success seems like an overnight fairytale. It isn't. The company has had its fair share of struggles. Like any startup, Kakao's road to success was paved with blood and sweat.
In December 2003, JB Lee graduated from Seoul National University. Upon graduation, he founded a company that does document solutions for web and mobile. While working on that, he got to know Brian Kim, an influential figure in Korea's tech ecosystem. Brian founded Hangame, a giant gaming company, which eventually merged with search engine Naver to form NHN.
Together with Brian, the duo founded IWILAB in 2006 and started to work on several web 2.0 projects but with only limited success. Things began to change when the first smartphone was introduced in Korea in 2009 and eventually went mainstream. It was then that some of the team saw the opportunity to build a world-class smartphone application.
Unfortunately, not everyone was convinced. The team was torn between building products for PC and mobile, and only after much discussion did Brian and JB decide that going mobile was the way to go. Not everyone was happy about that choice, but JB says the decision was a pivotal moment for the company:
The atmosphere during the discussion was very miserable and depressing. Brian came out with the idea of mobile smartphone apps. There was a lot discussion and debate. But we came to the conclusion to focus on mobile.
Having made the decision to focus on mobile, the team didn't know exactly what to work on. There were a number of ideas. So in the end, the team formed three groups to work on different projects.
KakaoTalk was born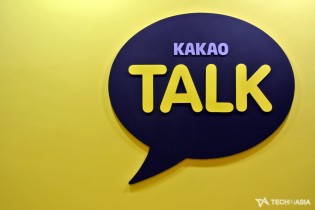 One of the ideas was KakaoTalk, which was launched on March 2010. With zero ad spending, KakaoTalk grew very quickly and organically while the other two applications were unfortunately getting little traction. The team made the decision to shut down the other applications to focus on KakaoTalk and IWILAB's corporate name was eventually also changed to Kakao.
By September 2010, six months after it was launched, KakaoTalk had already recorded one million users. Three months later, in December 2010, KakaoTalk hit five million users. The growth didn't stop and in fact, it accelerated. Today, KakaoTalk is used by over 90 million people worldwide and is expanding aggressively in Vietnam and Indonesia. I was curious as to how a young company like Kakao Corp could manage this explosive growth so well. JB was quick to credit his team. He said:
We have very experienced engineers who have worked at big companies such as NHN before. Our CTO, Young Lee, who used to work for NHN, has a very strong engineering background. He has experience dealing with huge traffic loads. Brian and our CFO, Dean Song, who used to work at CJ internet, also help KakaoTalk manage its fast growth.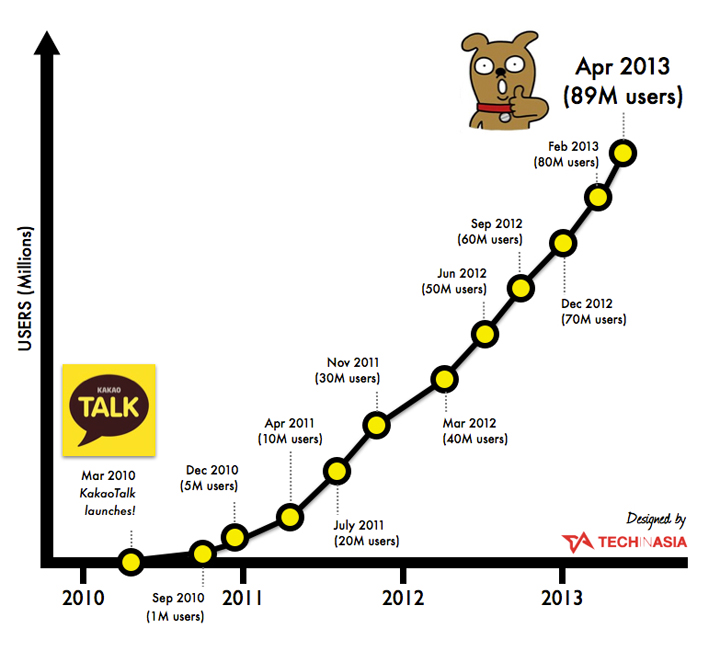 JB also explained that they wanted Kakao Corp's culture to be open and horizontal. This is especially attractive to talents who want their voices and opinions to be heard. Kakao's culture stood out among other Korean big corporations that usually have the traditional top down approach. JB also says that great talents attract each other and he is thankful that Kakao Corp had a strong group of founding team members who attracted more talent through their network and influence.
One and half years ago, Sirgoo Lee, a reporter and lawyer turned management veteran, joined Kakao Corp as co-CEO. Prior to joining Kakao Corp, Sirgoo had experience working at IBM and NHN. Plus, recently Kakao Corp has acquired four startups to grab the engineering talents it needs to scale its business worldwide.
Kakao's smart funding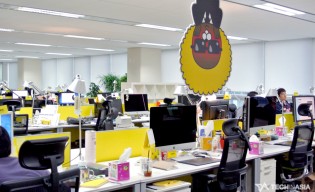 Like any other startup, Kakao Corp needed financial resources to keep it growing fast without worrying about revenue. Brian funded the company for the first three years. In January 2011, Kakao Corp received its first external funding of $5 million from 13 top-level tech influencers in Korea, including the founders of Nexon, Hangame, and NC Soft.
But Kakao didn't need the money. Rather, JB explained that the move was made to form close relationships with key influencers in Korea. This ensured that the top executives at various tech companies in Korea had skin in Kakao. Kakao then raised $20 million from DCM, Cyberagent Ventures, and Maverick Ventures. Its latest financing round came from Tencent and WeMade, who invested more than $80 million in total with Tencent also taking a board seat.
Users define Kakao's Future
With a whopping 90 million people chatting on KakaoTalk, the Korean startup has truly become a platform for hosting games and other digital content. Co-CEO Sirgoo Lee explained that it is only natural for KakaoTalk to expand into a platform. JB added:
Communication shouldn't just be limited to emoticons, images, and text. Third-party developers could be part of Kakao's platform.
He uses SundayToz's hit mobile game Anipang as an example, saying that Anipang showed that this hypothesis was right. In 39 days after Anipang was launched, the game received over 10 million downloads through KakaoTalk. On Kakao's future, Sirgoo says that the company will keep innovating to be at the forefront of the mobile messaging technology. He explained further:
We pride ourselves on being innovators, trying new things and being willing to learn from others. We look to our users and keep learning from feedback. We are willing to upgrade and change our service to maintain the leadership in innovation. You can copy features and design. But you can't copy the spirit and philosophy of the company. We are dedicated to creating a healthy ecosystem for developers, rather than doing everything ourselves. The ecosystem is the innovation source for Kakao.
As a platform, Kakao's journey has just begun and it'll be exciting to see how the Korean company will manage to expand overseas while fending off competition from the likes of WeChat and Line.