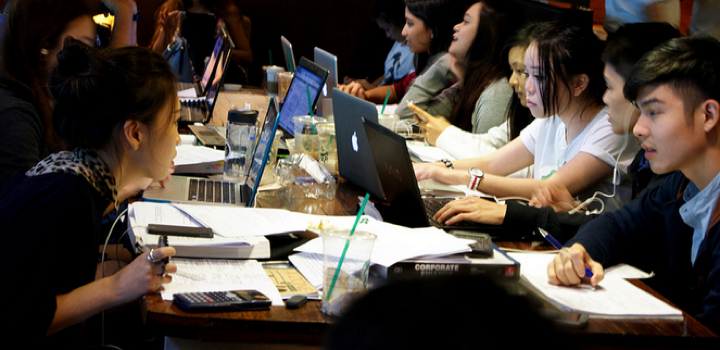 There's no shortage of startups angling to corner the edtech market for juku (cram schools) in Japan. Cram schools promise to prepare their students to pass rigorous entrance examinations for Japanese universities. This makes them extremely popular with both conscientious high schoolers and fretful parents who are pumping about US$10 billion into the system.
Goichiro Arai's Arcterus is the latest startup trying to lay claim to a portion of the pie. The service will be squaring off with more established competitors like online tutoring firm Mana.bo and virtual classroom ClassDo but will try to differentiate with its two core products, Caiz and Clear. Arcterus differs in that it seeks to offer a service which balances offline and online as opposed to following the trend of digitizing the cram school industry.
Caiz is designed to educate students and teachers about the learning process. According to Goichiro Arai, CEO of Arcterus, cram schools tend to be one-size-fits-all with a heavy emphasis on textbooks and rote memorization meaning that not all students are able to maximize their investment. This, in turn, can reflect poorly on the cram school.
The Caiz assessment to determine someone's "cognitive individuality" is performed by the same individuals who created it – a team of three professors specializing in comparative teaching methodology. Arcterus does not disclose the number of its school clients but Arai did confirm that the firm's revenue tripled from fiscal year 2012 to 2013. The spread of Arcterus seems poised to accelerate as Arai also said the Arcterus has reached a partnership agreement with Ikushinsha, a textbook company that supplies materials to 75 percent of cram schools in Japan.
Caiz might be more focused on offline, but Clear, released in December 2013, is where Arcterus brings learning online. With Clear, users scan and upload their notebooks after completing a course of study. That notebook then becomes another user's reference book. Users rate the notebooks based on usefulness and can even ask questions or send thank you messages to the original student.
Notebooks can already be found for a wide variety of social and hard sciences as well as college entrance exams. In the future, Arai wants to improve the analysis of the notebooks so users can more easily find the best notebook that matches their particular learning style. Even without this functionality, the service has seen some early success. During the most recent exam period, there was no advertising campaign but positive feedback shot the free app to the number three spot in the App Store. Arai declined to state how many users have downloaded Clear but would confirm that the downloads per month have been doubling each month.
Pursuing his business at all costs
Arcterus is looking strong now but it was a long, hard road to reach this point. Though Arai had experienced success in the business world, first as a consultant and then as the business manager of a ski resort, powering his startup was the toughest task yet. The company was founded in 2010 and, for the next 18 months – until Caiz was released – Arai's single focus was Arcterus.
He left his wife and two young kids with his in-laws, a seven-hour train ride from Tokyo. The separation was tough and occasional visits were punctuated by his children's tears. "[It was tough to put] my children and my wife in a very hard situation […] however, I had a strong belief that starting up my business would do good to the all the students including my kids in the future and pushed myself to commit to what I was working on," he said.
See: An education app's dilemmia, most are crap and freemium doesn't work
He originally came up with the idea due to his own experiences with Japan's education system. "I have always doubted about the effectiveness of the school's education system where teachers are forced to teach in a way that is OK on average for all students using a textbook that is also average," he noted.
Arai's beliefs are not limited to Japanese education. Arcterus is currently looking to raise a fund of "several million US dollars" so the service can spread globally.
Arai is already targeting several countries in Southeast Asia for expansion later in 2014. His preference is for English-speaking countries because they will be more likely to use the same textbooks, which in turn means that the notes taken in country A can still be used in country B.
Arcterus seems to have a chance to expand successfully. While cram school culture is often seen as unique to Japan, pressure to perform well in school and attend a top-notch university is not. If the company is able to show that its tools result in consistently higher results, it won't need a huge marketing campaign to spread. Proud parents of newly accepted university students will provide all the positive press it could ever need.
Top image via Flickr user Nicola Sapiens De Mitri
9月3日と4日にスタートアップアジア@東京を開催します!割引コード < TECHINASIA >を使ってみて下さい!
Startup Asia Tokyo 2014 is on Sep 3 and 4. Unlock secret level using code < TECHINASIA >