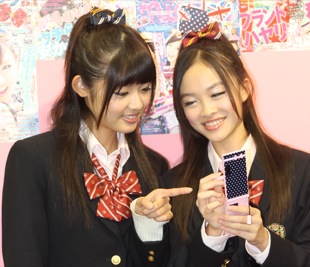 There have been a flurry of financial reports over the past week, giving us insight not only into whether or not companies are profiting, but also how they are growing – and in the case of GREE, DeNA, and Mixi, fighting for the the attention of users. I'd prefer not to compare their users directly, because after all two (GREE and DeNA) are mobile social gaming players, and Mixi is a social network [1]. And while there is certainly some business overlap between the three, I'd like to just take a look at the trends surrounding each of these Japanese juggernauts.
Japanese social network Mixi (TYO:2121) has announced its Q3 2011 report [2], and since we last looked at the company's user numbers, it seems that its growth has hit a distinct plateau since early last year. Expert on all things social on the Japanese web, Serkan Toto, who we interviewed on stage at our recent Startups in Asia event, finds it interesting that the network has stayed above over 15 million, in the face of challenges from Facebook and Twitter.
Mixi has been trying to fit itself into many of the businesses where its competition has succeeded, for example rolling out Facebook-like pages this past year (now more than 160,000 in total), brushing up its smartphone UI, and expanding its games offerings. Mixi also recently cooperated with DeNA in a social commerce partnership.
GREE's (TYO:3632) most recent user numbers are nearly at 190 million, although the majority of that is Open Feint which it acquired last year. In Japan, GREE says its users are 15.3 percent of that total, putting them in the ballpark of about 29 million. This is according to GREE's most recent published data [3].
GREE of course is growing globally, with nine offices opened around the world. Net sales are at about $539 million according to its Q2 FY2012 financial report, up 190 percent on the same time last year.
Meanwhile DeNA (TYO:2432) just reported that its Mobage social gaming platform has reached nearly 36 million users. While I don't have monthly user data for Mobage, you can get an idea of the platform's long-term growth in the chart below. Like rival company GREE, DeNA has been expanding abroad with a number of global subsidiaries and partnerships. Note that the figures below don't include Mobage Global or Mobage China, nor does it include Ngmoco's Plus+ network.
As for profit, the company reported about $448 million in net sales for the quarter ended December 31, 2011, which is a 16 percent improvement on the year before [4].
How are foreign players Facebook and Twitter doing in Japan? Currently Social Bakers puts Facebook user numbers in Japan at about 6.8 million, but the social network is growing very fast, which should perhaps worry Mixi more than anyone else. As for Twitter, it has a much firmer foothold having started in Japan far earlier than Facebook. French company Semiotics estimates that Japan is the third most populous Twitter nation with about 30 million user accounts.