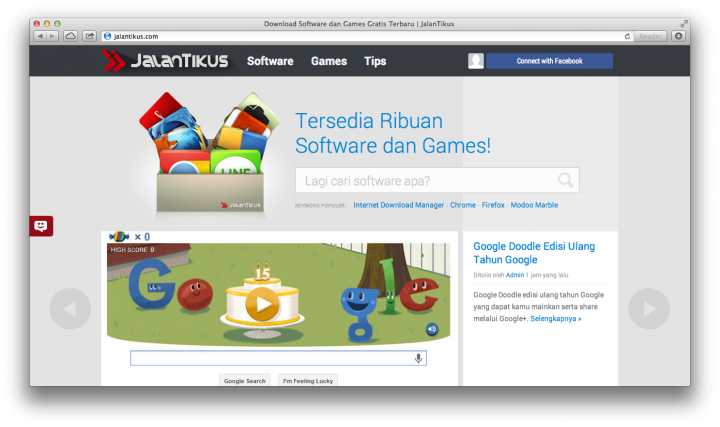 Online piracy is rampant in Indonesia, and as a result, due to the ease of obtaining free content, few local sites cater users who prefer to obtain content through legal channels. Jalan Tikus hopes to fill this gap by offering thousands of free and legal downloads.
Believe it or not, there's a meaning behind the funny-sounding name. Jalan Tikus roughly translates to "a small shortcut road."
"It's a joke name," says Weihan Liew, founder of the Jalan Tikus. "Just like most people use a jalan tikus to get around the horrible Indonesian traffic, we wanted to provide a fast, secure, one-stop shop website with links and shortcuts for Indonesians to download their favorite games and apps."
Jalan Tikus is a simple website portal which offers three main download categories: apps (for desktop PC and Android), games (for desktop PC and Android), and readable app-related content. All downloadable content is properly licensed as freeware, open source, and shareware. It is all legal and free for download.
Liew is no stranger to the tech world. Last year he founded MainGames, the Indonesian game company behind the Indo MMORPG Dragon and Emperor Online. Before that he worked as an investor with Nokia Growth Partners, the Finnish phone maker's VC arm.
Indonesia's safe haven for software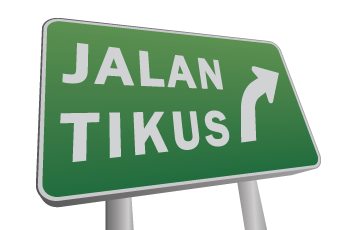 Liew claims that currently there are no local Indonesian sites that offer a safe and trusted place for people to download software. Users who go through the shady torrent sites have to face loads of ads, untidy download links, and God forbid, virus-infested downloads. Jalan Tikus helps eliminate all that by promising users zero ads, and easy, direct, and clean downloads.
Since its inception in June 2012, Jalan Tikus has served over 10 million downloads to more than six million unique users. The site itself boasts 1.3 million monthly pageviews and already has between 500,000 to one million monthly active users.
Empowering local developers
Liew's team plans to also empower Indonesian developers with Jalan Tikus. Given the glut of international apps available for download in Google Play, local Indonesians rarely get the chance to see their apps in the spotlight. Liew hopes that his store will help talented local developers find their target audience more efficiently.
Going forward, we want to help Indonesian developers grow their user base alongside ourselves. As opposed to Google Play, we will review every interesting local app individually and give sufficient airtime to be the best Indonesian app, be it Android, iOS or PC.
Shortcuts down the road
Has Jalan Tikus made any money yet? The short answer is no. The team is focusing on building a community first, trusting that revenue generation will come easily once a base of loyal users emerges.
Jalan Tikus plans to roll out two features in the coming months: a Quora-like question and answer section, and an Anrdroid app for Jalan Tikus itself. At the moment there are already user forums for each of the software pages, but the team has encountered more general questions from users which have become the topics for the "tips" section. The upcoming Q-and-A feature will attempt to solve users' questions more directly.
In Indonesia, there aren't many local app stores built by startups just yet. The ones available now are mostly exclusive to specific smartphone and tablet devices – like the ones owned by Samsung, Smartfren, Cyrus, and SpeedUp. The country's biggest telco Telkomsel has also rolled out its own app store called TemanDev. Jalan Tikus definitely proves that there's room for startups to take a slice of that industry too.
(Editing by Charlie Custer and Josh Horwitz)