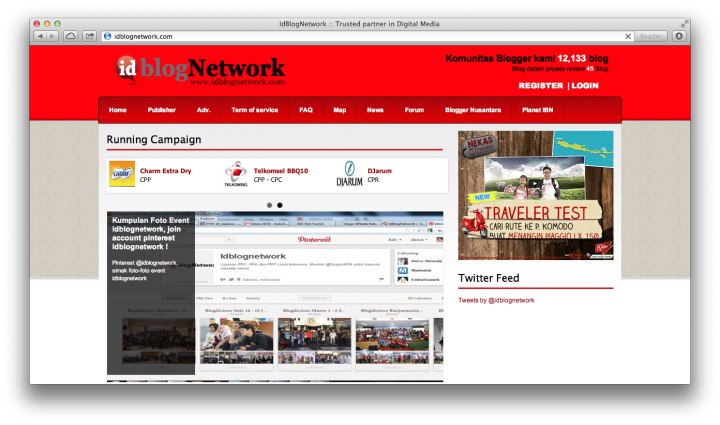 Indonesia's biggest blog advertising network Idblognetwork (Disclosure: East Ventures invests in both Idblognetwork and Tech in Asia. See our ethics page for more information.) has been keeping itself quite busy this year. Besides launching social media advertising network Idbuzznetwork in April, the team now is looking to launch a local Demand Side Platform (DSP) in Indonesia called Idblognetwork DSP (IDDSP).
According to the release, DSP is an interface which allows digital ad buyers to manage campaigns with multiple Ad Exchanges and Supply Side Platforms (SSPs) like DoubleClick Ad Exchange and OpenX using real-time bidding technology. The platform will offer various audience targeting features including look-a-like targeting, keyword targeting, and domain targeting with frequency, recency, and day parting by a Data Management Platform (DMP).
Idblognetwork will be partnering with Japan-based Freakout, which claims to be the first company to offer DSP in Japan. The latter company will handle the DSP and DMP sides in Indonesia, while the former company will create the interface that allows advertisers to conduct transactions on Freakout's DSP platform.
Progress and goals
Right now Idblognetwork manages 12,000 bloggers with over 180 million aggregated monthly impressions, and the startup has recorded good growth when it comes to attracting an international audience. Freakout itself manages several billion impressions every month in Japan, US, and Asia Pacific.
Founder Kukuh T. Wicaksono hopes that with the new platform, it can offer bloggers and publishers more relevant content from advertisers for readers. At the same time, the team wants to offer more alternatives for companies to spread their advertising campaign over to Ad Exchanges and SSPs through Idblognetwork.
Local expertise
Wicaksono believes that his competition includes both local and international DSP players. What's going to make IDDSP different is the team's more detailed user profiles in Indonesia.
There are a lot of foreign DSP and DMP services that aren't that focused on analyzing user profiles in Indonesia. Idblognetwork and Freakout will look at data like user's general information, hobby, marital status, and even the children's profile according to their browsing behavior.
(Editing by Terence Lee and Steven Millward)