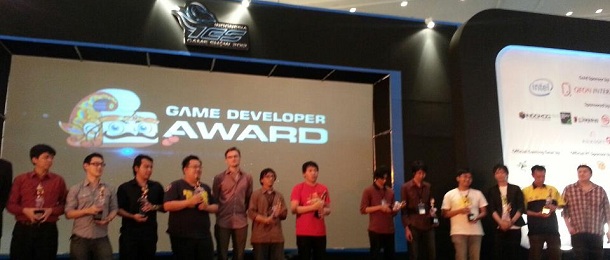 Last weekend, while we had our Startup Asia Bandung Hackathon, there was another interesting event taking place in over in Jakarta: the Indonesia Game Show. The event showcased numerous local games and also had its own competitions for both the gamers and game developers there. Here's the list of the winning game developers across eight categories:
Category
1st Place
2nd Place
3D PC game
Steampunk Deathmatch by Garuda Games
Vindicta by Agate Studio
2D PC game
Relic of War by Toge Productions
Campus Fighter by Divine Kids
Flash-based browser game
Football Saga 2 by Agate Studio
The Utans by Ulin Gameworks
Non-Flash based
Save Komo by Creacle Studio
2nd place: Groovy Grape by Glass Finger
Smartphone-based
Infinite Sky by Touchten Games
Push the Box by Maximize
Featurephone-based
Trigger Knight by Mintsphere
Backyard Madness by Tinker Games
Special Award for Innovative Mobile Game
Planet Monstar by Indosat
Favorite Local Game Developer
Choco Arts
Dismal Happiness

In the 3D game category, Garuda Games, which recently was one of the winners at Sparxup 2012, snatched first place with Steampunk Deathmatch. Agate Studio's Vindicta, a robot first-person-shooting game earned second place.
In the 2D game category, Toge Productions, which also made the zombie-virus mobile game Infectonator that we reviewed recently, is still a force to be reckoned with on the PC gaming platform. The game developer received the first place for Relic of War, a strategy game taking place in 1940s war scene. Divine Kids' very fun first-person-fighting game Campus Fighter in the second place.
Agate Studio's flagship game Football Saga 2 made it to first place among Flash-based browser games. The developers recently told us it was created to help inspire and motivate the national football team. Ulin Gameworks' game to promote awareness of Indonesia's Orangutan, The Utans was awarded second place in this category.
The Komodo Island-inspired Save Komo game earned Creacle Studio the first place in the non-flash based category. Glass Finger's Groovy Grape went on to become the runner-up.
Mobile games
Touchten's smash-hit mobile game Infinite Sky, which is a fun fighter pilot shoot-out game, took the top spot in the smartphone category. Maximize's Push the Box, which tells a story of a piggie who wants to save his friends from the big bad wolf, earned the second-place award.
There are more players in the featurephone gaming industry to look out for. Mintsphere's Trigger Knight. Tinker Games also won this category with Backyard Madness, where you play the grandma in shooting away the mutated piggies at the backyard. Interestingly, both games are also available on smartphone platforms such as iOS and Android.
Indosat's Tamagochi-like mobile game Planet Monstar earned the award for 'Innovative Mobile Game.' Here's a video of the gameplay:
Choco Arts, which featured in CompFest 2012, won the 'Favorite Local Game Developer' award, while Dismal Happiness earned the second spot. I'm not too sure how they judged this particular category, but it's a great boost for these two companies.
[Source: Techno.Ghiboo.com, image: DailySocial]