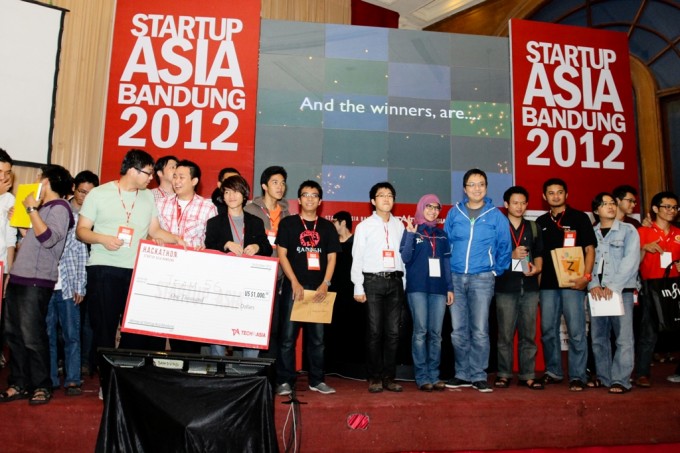 After all the coffee, snacks, and code-crunching that more than 600 developers went through at the 24-hour hackathon at Startup Asia Bandung, came the highly-anticipated demo day. All the developers had the chance to present their products to the 11 challenge sponsors, and the top teams then did a 90-second pitch in front of the whole audience – and our judges – at the Startup Arena segment.
And here are the winners for the Startup Asia Bandung Hackathon in each of the many API-oriented challenges that were set:
East Ventures Alpha, Tiket, and Softlayer Challenges
Aqsath Rasyid, Azby Luthfan, Tito Daniswara, and Puja Pramudya (Team 6) impressively became the only team to win three sponsor challenges: ones from East Ventures Alpha, Tiket, and Softlayer. So we've grouped those three challenges here. The team built a Windows 8 app [Updated: correction!] for collaborative trip planning.
Lazada Challenge
There were two winners of the Lazada challenge, which tasked teams with building a Lazada Indonesia native design for Blackberry.
1st winner: Bilhasry Ramadhony (Team 38).
2nd winner: Basytyan Kardinal Pratama, Lailatuzzahro, Lutfiah Hayati, Aonillah, and Jade Marsha Pricillia (Team 13).
GEPI Challenge
The idea behind the GEPI challenge was a bit different to all the others – to fight piracy using any kind of mobile app and platform. The winners for this unique challenge were Lugas Adhi Prasetyo, Aulia Ahmad Nur Utomo, Setyo Artanto, and Aprianto Dwi Atmaji (Team 33). They built a 'spot the differences' Windows Phone game called "KW12." The game tells a story about a burglar who stole and copied different kinds of products, and the police must now uncover which products are genuine and which are fake.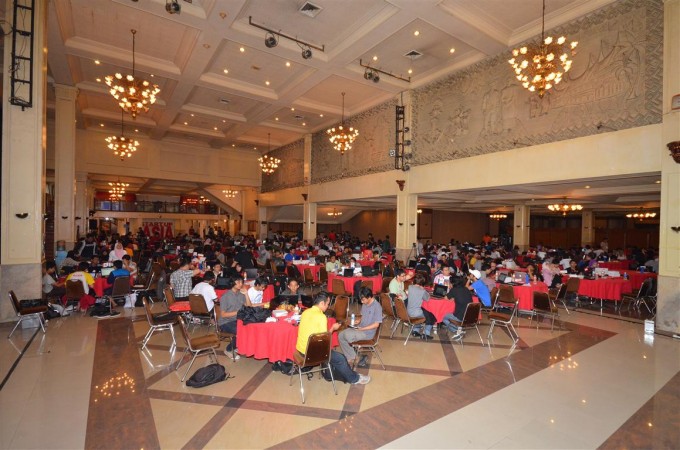 Teamie Challenge
William Sanjaya, Indri Yunita, and Chandra (Team 54) won this education-oriened challenge. They built a Blackberry app that enables users to create and learn through flashcards. An honorable mention goes to Takdir, Amir, Ana, Vendi, Fahmi, and Bayu from Team 35 who were really close to winning this challenge.
Sent.Ly Challenge
Deni Lukmanul Hakim, acting as a one-man team, won this challenge with his web-based app. He made GroupsBe, which enables users to better control their mailing lists by doing things like controlling the messages they want to receive.
SixReps Challenge
Team 32, which consists of Walesa Danto, Arif Setiawan, Dian Hadiana, and Widhian Bramantya won this challenge with their mobile app called "BodyGuide." The app will help suggest and schedule the kind of workout that you need, based on your body height and weight.
DeNA Challenge
DeNA chose Annas Armanto's and Hendra Gunawan's (Team 41) Android zombie game as the winners of this challenge. Uniquely, you need to unleash some rapid finger swiping actions to kill each of the zombies. Toshihiko Suyama from DeNA thought that the swiping concept was really interesting.
Cacoo Challenge
Tri Sundara chose to undergo six challenges alone at the Hackathon, in the end winning one of them, which is the Cacoo challenge. He built an Android app to help people play Futsal together. The app allows the user to invite people to play together, and to also work on the team formation and strategy using the Cacoo API.
Softlayer Challenge
There were three winning teams for the Softlayer challenge. The challenge required the participants to develop products using Softlayer's infrastructure.
1st winner: Yudhi Karunia Surtan, Bramantyo Dony Aribowo, Dwi Priyohutomo, and Ferdhi Adrian (Team 4).
Runners-up: Deni Rohimat, Daeng Rosanda, Ibnu Sina Wardy, Rahadian Ahmad, and M. Ray Rizaly (Team 106) and the same Team 6 that won both the Tiket and East Ventures Alpha challenges.
Kotagames Challenge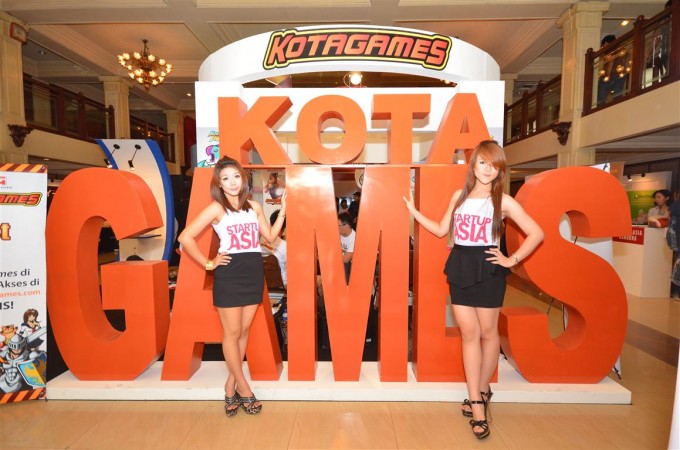 Kotagames gave away three Macbook Airs as prizes to three teams yesterday. The winning teams made interesting feature phone games, they are: "Battle of The Bands" by Team 20, "Tatao" by Team 31, and a historical game to fight off the invaders from Indonesia made by Team 39.
Team 20 consists of Ecky Putrady and Dimas Tri Ciputra. The four-man team of Jason Christian, Ericko Yaputro, Thomas Simpson, and Michael Setiawan Suhardjono formed Team 31. Vicky Falurrahman, Dennis Adriansyah, Supradi Sitepu, and Damas Nawanda made up Team 39.
Startup Arena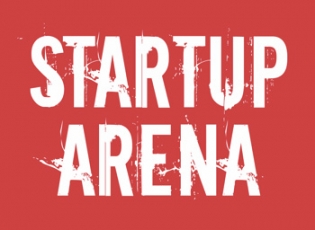 Besides the sponsor challenges, we also held our trademark Startup Arena competition. This time, each finalist only had 90 seconds to pitch their products. In the end, everybody took more than 90 seconds to speak their mind on the stage, but we're cool with that. Three winners were chosen by judges Andy Zain from the Jakarta Founder Institute, Hera Laxmi Devi S. from XL Axiata, and Toshihiko Suyama from DeNA. Here are the winners:
1st winner: Taisuke Oe (who flew all the way from Japan!), R. Alviyan, Jayadiars, and Juni Putra (Team 56). They built an Android game called "Finger Twisters." The game's title echoes the gameplay concept very much, as it's a Twister game played with your fingers. Interestingly, this game is meant to help users to 'touch hands' with their potential significant others.
2nd winner: Edwin Lunando, Samuel Enrico Wijaya, Georgius Rinaldo, and Unggul Bhakti Muhammad (Team 28). They built an Android-based game called "Startup Story," in which the users will build their startup with their friends in the game. Interestingly, this game also tried to tackle the GEPI challenge, where the users could opt to buy genuine or pirated products to run the company. The choice will then be automatically shared via social networks so that everyone will know what products you bought in the game.
3rd winner: Ecky Putrady and Dimas Tri Ciputra (Team 20). This is the same team that won the Macbook Air from the Kotagames challenge. So it was a good day for these guys.
Congratulations again to all the winners – we're very proud of you! We would also like to send our warmest gratitude to all participants, spectators, crew members, judges, and media partners and sponsors for making the hacking experience even more awesome.
We hope to see you again at the next Startup Asia!
[Related: Hackathon at Startup Asia Bandung: 600 Developers, 128 teams, 24 Hours of Fun ]
Disclosure: East Ventures Alpha is an investor of Tech in Asia. See our ethics page for more information.