In Sanskrit, "Bareksa" is the word for "tree." As the saying goes, money doesn't grow on trees. In Jakarta, however, that no longer seems to be the case. Bareksa is the most interesting startup in Indonesia that has not officially promoted itself yet. At the end of August, Indonesians will learn about the nation's newest way to buy and sell stocks, bonds, and mutual funds online. Bareksa is poised to take the title of the country's first fully integrated investment portal.
While other sites like Infovesta and Indonesia-Investments publish news and content related to smart spending on commercial ventures, and Indo Premier serves as an actual portal for online trading, Bareksa offers all the tools experienced investors and beginners need to make trading decisions. More importantly, however, Bareksa also provides the trading platform itself.
"Our mission is to make the financial market more transparent in Indonesia," says Bareksa founder and president director Karaniya Dharmasaputra. "The biggest challenge is keeping all the data as accurate as possible, because as you can see in Indonesia, not every source will give you the same message." Dharmasaputra is no stranger to delivering the facts. In 2008, he founded the now gargantuan Indonesian news portal VIVA, and is a former managing editor at Tempo news magazine. He is also a recipient of the Bung Hatta Anti-Corruption Award and founded the Public Policy Institute at Paramadina University.
Dharmasaputra and co-founder Ady Pangerang, VIVA's former IT director, started working on the company in February 2013. The Bareksa website soft launched in March of this year and it has gained around 50 subscribers and 1,000 visitors per day without any money spent on promotions. 50 subscribers may not sound like much, but when taking into account the extremely niche target audience, combined with a Rp 6.5 million (US$554) per month price tag for a standard subscription, the user-base thus far is actually impressive. For its premium subscription, Bareksa charges Rp 10 million (US$849) per month, but Dharmasaputra declined to comment further on the number of users registered for each of the two packages.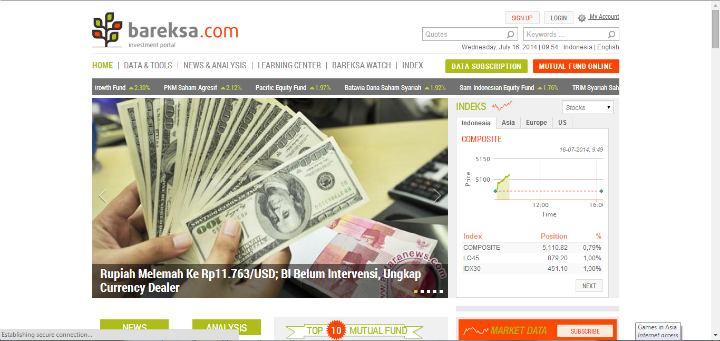 The prices seem expensive when compared to typical online services like traditional ecommerce. But after users see the intelligence Bareksa has to offer and have a chance to compare its rates against similar companies in the US and UK, the picture comes into focus a little more. The tools and services Bareksa features are the most sophisticated items available for comparing stocks, bonds and mutual funds in Indonesia. Bareksa has 32 full-time employees, around 10 of whom are dedicated solely to gathering, curating, and updating data from financial institutions, which include banks, various investment funds and the Indonesia Stock Exchange. Dharmasaputra says this process is the most difficult part of running Bareksa as the vast majority of these interactions must be done offline.
According to Dharmasaputra, the users' favorite feature on Bareksa so far is a quadrant chart that compares the risk percentage against the average rate of return on all mutual funds in Indonesia. Dharmasaputra says that right now all of Bareksa's clients are financial institutions with an interest in Indonesia as an investment hub. He says, "In Jakarta, I think there are only 250 registered financial institutions, we already have around 20 percent of them. I would say we're in quite good shape."
See: Cutting costs? Here are 7 financial comparison websites in Indonesia
A site like Bareksa also comes with an inherently attractive business model. Dharmasaputra says it's the most interesting and exciting thing for him about the business because it can be exploited in three ways. He explains, "First we are an ecommerce. Bareksa is a marketplace, so we can charge for transactions. Second, we generate premium insights and content, so we can sell subscriptions with our data and research. And third, we will eventually sell ads and sponsorships further down the line."
Bareksa features a comprehensive section of data and tools, accompanied by a learning center that is complete with a glossary of otherwise tricky investor lingo, and an index of listed companies already open for investment. On similar platforms like Bloomberg, just over 30 of Indonesia's largest companies exist. Bareksa already features more than 700 listed companies, locked and loaded for public trading.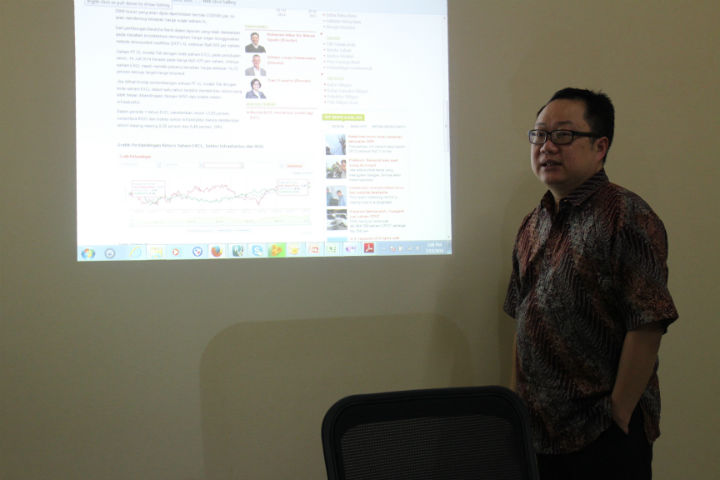 According to Dharmasaputra, the Indonesian market for online trading is still quite immature. "In the online financial industry, Indonesia is surprisingly lagging far behind the other industries," he explains. "So, the habit to invest is not yet well-grown in Indonesia. Here, the third party money saved in banks is amazing; it's somewhere around 40,000 trillion rupiah [approximately US$3.4 trillion] that exists only in savings accounts and deposit accounts." With all those funds just sitting in storage, Bareksa aims to be the premier vehicle for the world's largest archipelago to persuade its public to play around with funding opportunities.
According to Dharmasaputra, the number of investors in Indonesia is less than 0.01 percent of the population. By 2017, the Bareksa co-founders hope to not only reach profitability for their company, but also increase the total number of investors by convincing seven million people (2.8 percent of the population) to use Bareksa as the go-to portal for Indonesian investments. He adds, "It's becoming possible. Indonesia's middle class and even students are taking an interest in investing."